General Information of China Adventure Tour
Duration: 8 days
Destination: China
Start/ End: Lijiang / Shangri-la
Tour Route: Lijiang – Yesong – Lianhe – Jisha – Shangri-la
Tour Type: Horse-Riding Exploration and Experience
Tour Category: China Adventure Tour
Tour Customizable: Absolutely! (Inform us)
Guides: Local Guides (Local Tour Guide)
Transportation: Private first-class air-conditioned vehicles
Accommodation: Listed below or equivalent.
Brief Itinerary
Day 1: Arrive Lijiang (L, D)
Day 2: Lijiang (B, L, D)
Day 3: Lijiang – Shangri-La (B, L, D)
Day 4: Shangri-La – Yesong (B, L, D)
Day 5: Yesong – Lianhe (B, L, D)
Day 6: Lianhe -Jisha (B, L, D)
Day 7: Jisha –Shangril-La (B, L, D)
Day 8: Shangril-La Homecoming (B)
Detailed Itinerary
Day 1: Arrive Lijiang (L, D)
Welcome to Lijiang! Our local guide in Lijiang will pick you up from Lijiang Sanyi Airport, then directly transfer to the downtown hotel, check-in a hotel and have a short rest.
Your lunch will be served at the hotel, then we go to visit Lijiang Old Town. The lovely ancient Naxi town of Lijiang stands 2400 meters above sea level at the foot of the 5'596 meters high Jade Dragon Mountain. We take a first stroll through the apparently countless narrow lanes and canals crisscrossing the old town. We have chances to learn more about the secrets of the mystic Naxi Dongba culture. After the destruction of the earthquake in 1996, and being reconstructed, part of the old town of Lijiang was recognized by the UNESCO as a World Heritage site. We will have a walking tour in the old city market square and have a panorama view from Wanguolou Pagoda.
When the evening approaches, we will transfer to the hotel and have dinner there.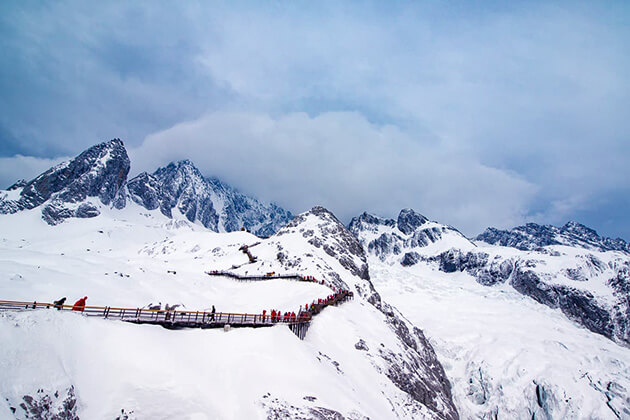 Day 2: Lijiang (B, L, D)
After breakfast in the morning, we gather at the lobby hotel and head to Lashihai Lake. The tour today starts with a horse-riding from Lashihai Lake. Lashihai Lake covers an area of 5,330 hectares (9.3 km long from south to north and 8.2 km wide from east to west), which makes it the largest lake in Lijiang County.
Continuing riding to Shuhe Old Town. Shuhe Ancient Town is a well-preserved ancient town along the tea-horse road, a famous tea-trading route in ancient China. Tea-horse Road starts from Xishuangbanna City, cross Dali, Lijiang and Diqing Town, and stretches to Tibet. Shuhe Town was considered as an essential component of Lijiang Old Town, the world cultural heritage listed since 1997.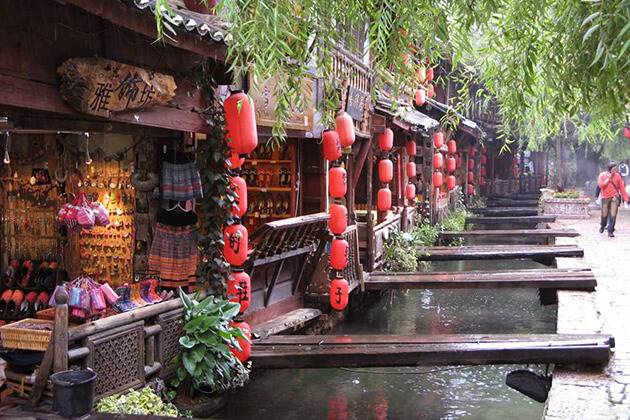 Then go on your riding to Baisha Old Town. The Baisha Ancient Village, which its name Baisha means "white sand" in the Chinese, is one of the oldest towns in Lijiang City. It was the origin of the Tusi Dynasty which was evolved from the Mu Clan. It was also the earliest settlement of the Naxi people. There are many ancient constructions could be traced back from the Ming Dynasty: the Dabaoji Palace, the Liuli Temple and the Wenchang Palace.
Meals: Breakfast, Lunch, Dinner
Day 3: Lijiang – Shangri-La (B, L, D)
This morning, having breakfast at the hotel then pack up, we will leave for Shangri-La. On the way, transfer to visit The First Bend of the Yangtze River, Shigu Town, and Tiger Leaping Gorger. "The First Bend of the Yangtze River" is the first turn it makes while heading to the east across all of China before it finally surges into the East China Sea at Shanghai.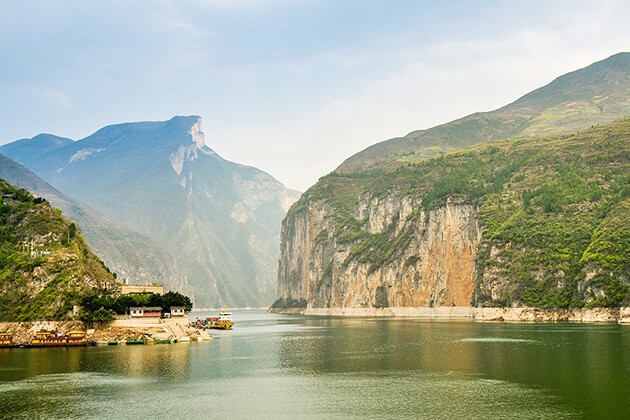 Then we head to Shigu (Stone Drum) town to check-in and take a short rest in a local hostel. The name of the town is named after a white marble monument, which was carved in the 1500s in the shape of a drum; this is to commemorate the victory by the Naxi ruler over an invading Tibetan army.
After lunch, continue to visit the world-famous Tiger Leaping Gorge, one of the deepest most dramatic gorges in the world, and still quite wild despite enormous efforts to tame it. We'll go on biking after entering in the gorge until we reach the "middle" of Tiger Leaping Gorge. At the end of today's visit, drive to Zhongdian. Zhongdian is featured with a sprinkling of Bai Muslim and Naxi cultural influences. This beautiful land identified with snow-capped mountains, vast grasslands, idyllic lakes, and religious culture. Come here and get the feeling of freedom from stress, pollution, and turmoil which bother us most of the cities.
Before dinner, you will be escorted to the hotel and take a bath. Time at night is at your leisure, thus, we recommend you take a walk around Dukezong Ancient Town to visit an important town of the ancient Tea-horse Trade Caravan. Overnight at a nice hotel in Shangri-La.
Day 4: Shangri-La – Yesong (B, L, D)
Our riding route today is Shangri-la – Bulun village – Yesong pasture.
We will start your horse-riding from Shangri-La this morning. We will ride over to a small hill to visit Napa Lake about 6km away. The Napa Lake Nature Reserve is the largest grassland and most scene area of the plateau of the country. After that, we continuing riding to Bulun village. After lunch, we move to Yesong to check-in and spend a simple homestay in Yesong.
Dinner and overnight at the hotel.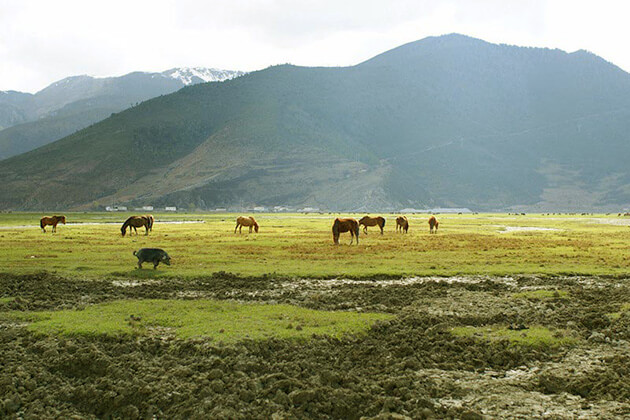 Day 5: Yesong – Lianhe (B, L, D)
Tour route for the 5th day in Yesong: Yesong pasture –Lugu village –Tuili –Lianhe village
After breakfast, we will ride uphill from Yesong to top of the mount, then down to the grassland. Riding along the alpine meadow, then down to Lugu village where we will have lunch at a local farmer's house. After lunch, continue ride to tonight's lodging plan Lianhe village via Ruili.
Dinner at a local restaurant and overnight at local homestay in Lianhe.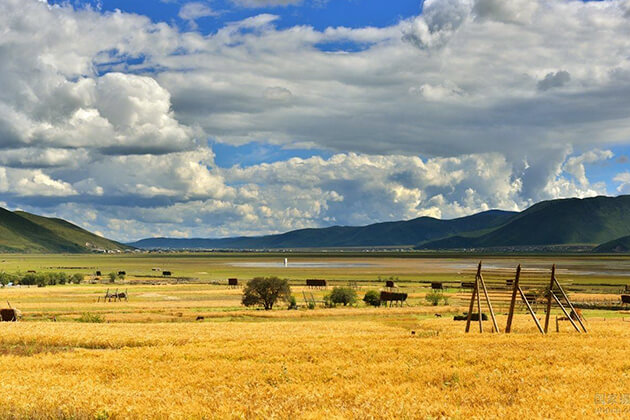 Day 6: Lianhe -Jisha (B, L, D)
Riding route: Lianhe village-Yangtangqu –Tuanjie- Jisha village
After breakfast, we will ride about 2 hours to Yangtangqu along the river, then down to Tuanjie village for lunch. After a short rest, riding 1 hour to the endpoint, then take a short drive to Jisha village, overnight at Jisha.
Meals: Breakfast, Lunch, Dinner. Overnight at local homestay in Jinsha
Day 7: Jisha –Shangri-La (B, L, D)
After breakfast, go to visit the Pudacuo National Park. Sightseeing in Bitahai Lake by bus arranged by the park. Pudacuo was the first national park on the Chinese mainland, which has been opened for tourism since 2007. The name Pudacuo refers to a sacred mountain of Avalokiteshvara (Goddess of Mercy). The eco-environment is well reserved with marsh, lakes, virgin forests, brooks, springs, and rare fauna and flora resources.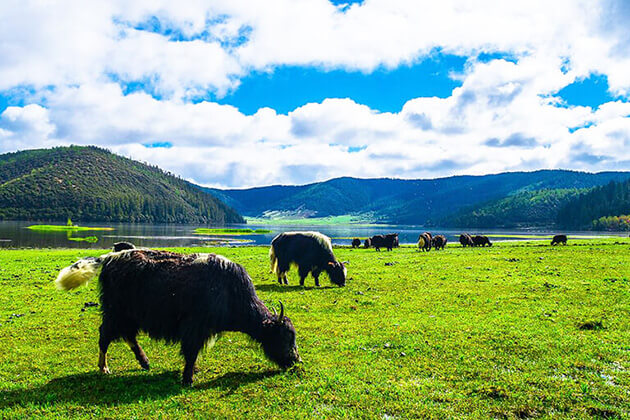 After lunch, transfer to visit Songzanlin Monestary, which is located in the north of the old town center. The Songzanlin Monestary was constructed in 1679 and considered the largest Tibetan Monestary in Yunnan. It is labeled the "Lesser Potala" since it resembles the magnificent structure in Lhasa.
Then drive back to Shangri-La, check the hotel and have a rest. Overnight at a nice hotel in Zhongdian
Day 8: Shangri-La Homecoming (B)
Enjoy the last breakfast at the hotel then check out. Our guide will pick you up from the hotel, we transfer to the airport and catch the flight to your next destination. End of the tour. Hope you enjoy the China trip.