China Chengdu Panda Tours & Holiday Packages
If you are animal lovers, you should set your foot in Chengdu – China, to get a closer insight into cute pandas, feed them as well as watching the video about how a panda gives birth to a baby cub. More interestingly, you also have ample chance to join a panda volunteer program at the Wolong Giant Panda Research Base. One step further to get a glimpse of giant pandas, experience ethnically diverse villages, explore one of the most biodiverse regions on Earth and see giant pandas in zoos of the metropolis including Beijing, Shanghai, Chongqing, Guilin, and Hong Kong.
China Local Tours proudly provides a wide range of choices of panda tours to meet your exact needs and requirements. Our comprehensive and experience aim to give you the best itinerary and in-depth travel information on planning your China panda tour packages, which help you to get a feeling like a local. Discover little by little and enjoy every single moment of your panda dream tour in China.
---
Things to Know about Chengdu Pandas- the Highlight of China Panda Tour
Lovely Careless Bears
Eat, play and sleep are the main elements of a happy lifestyle of cute pandas. These white and black bears are cuddling creatures which enjoy themselves very much and are likely to stay away from all stressful situations or exertion. Spending 14 hours eating, a giant panda can consume 12 to 38 kilograms of food, approximate 40% of its weight. Tender stems, shoots, and leaves of bamboo that are richer in nutrition and lower in fibrous are their favorite. The rest time of the day is for resting and sleeping in various poses from lying flat on their backs, on their sides, on their stomachs to stretching their paws and rolling themselves into balls. Watch their lazy shows and you will find your stress will be blown right away. It is so entertaining to see them clinging to their keeper's leg or lying on the other when eating.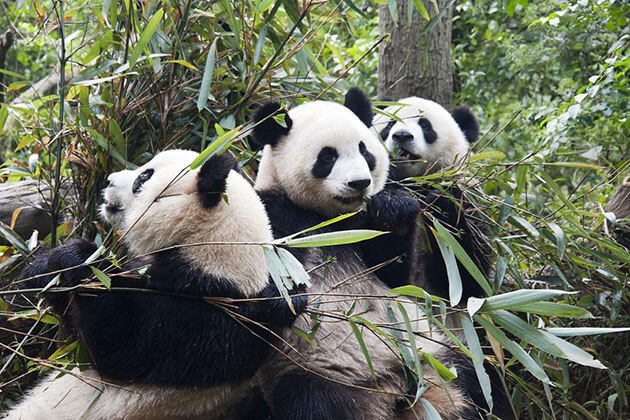 Vulnerable Species
The fates of the giant panda were in the threat of disappearing due to the serious reduction in their habitats as well as illegal poaching and hunting. As one of the rarest and endangered species in the world, the bear has been selected to become the symbol of the WWF since its formation in 1961. Fortunately, thanks to the great effort of China government, giant pandas were removed from the endangered list in 2016 and is on the vulnerable list. This achievement results from the process of returning farmland to forested areas combined with saving, breeding then introducing pandas again to the environment.
Guides for Chengdu Panda Tour
As the name suggests, the stars of the China Panda Tour are the lovely black and white bears. To many traveling lovers all over the world, the adorable giant panda is one of China's irresistible attractions. If you are a big fan of these cuddly animals and are eager to join a trip to China and visit them, take a glance at the following suggestions for a better experience.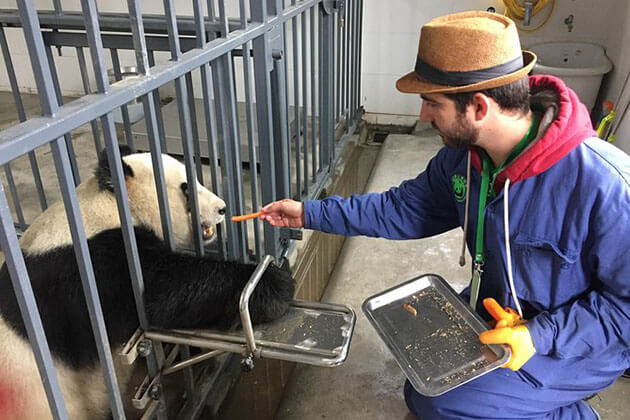 Best Time to Join a Chengdu Panda Tour
Bear in mind the best time to visit lovely pandas before planing for your China panda tour. As pandas do not hibernate, tourists can see panda all four seasons. However, summertime is not recommended as they tend to stay in air-conditioned rooms sleeping. In contrast, in spring and autumn, travelers will catch sights of lively pandas liking to climb trees, eating, and playing outside. Especially, having a China panda tour on August, tourists might be offered a chance to witness the newborn pandas, tiny, pink, and of course extremely adorable.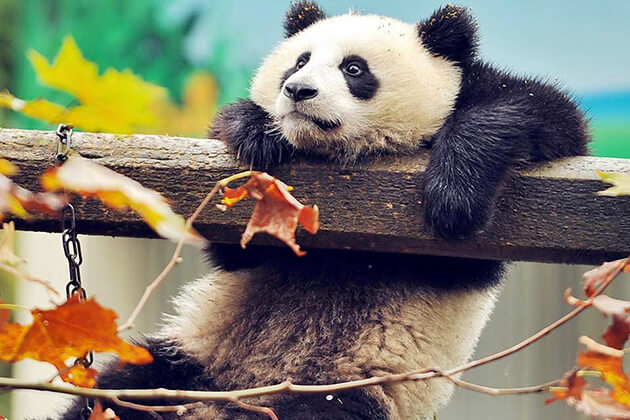 Besides, as pandas usually have a general schedule of 2-3 hour sleeping the 3-4 hour sleeps at noon, so avoid this time if you want to see them climbing or walking. Morning is the best choice for whether a less crowded place or lively pandas.
Best Places to See Chengdu Panda Tour in China
Known as the panda capital of the world, there is no better place in China to have a face to face meeting the adorable black and white bears. Thanks to the important panda research bases located here, it offers the tourists who fall in love with the cuddly animal various choices to be near them. To plan a China tour including the lovely pandas, there are the top places in Chengdu to take into consideration
Chengdu Giant Panda Breeding Center
Just 40-minute drive away from the city center, the Chengdu Giant Panda Breeding and Research Base is the most easily accessible panda base and one of China's most popular places to see pandas. Home to captive panda population of around 70 including cubs, the base is good for getting close to the giant pandas of various ages, especially the baby ones. In the Centre located the Giant Panda Museum where a variety of exhibitions displays everything you possibly want to know about these animals as well as the conservative effort to ensure their survival. Besides, your trip will be enriched by a visit to other endangered wildlife such as red pandas, swans, peacocks and much more.
Dujiangyan Panda Base
For a once-of-a-lifetime experience to see the panda close up, a 1-day panda keeper program in Dujiangyan Panda Base is a great option. Join in this volunteer program, tourists will interact closely with the cuddly animals, help to clean the panda enclosures, hand on making the food and feed them. At the end of the day, you can get a certificate to memorize the special day. Only 60 people per day can take this wonderful chance so it is essential to tell the tour guide to book in advance for you.
Wolong Panda Center
Further away from Chengdu, Wolong Panda Center is nestled into the native woodlands of the giant panda. After suffering from the earthquake in 2008, this real hometown of wild pandas was reopened to the public on May 2016. Visiting the base, tourists take an ample opportunity to become panda's private guest and have an exploration of their nightlife without too much noise as well as other travelers. This is absolutely a good place for super panda fans to witness how the animals enjoying their lives in nature.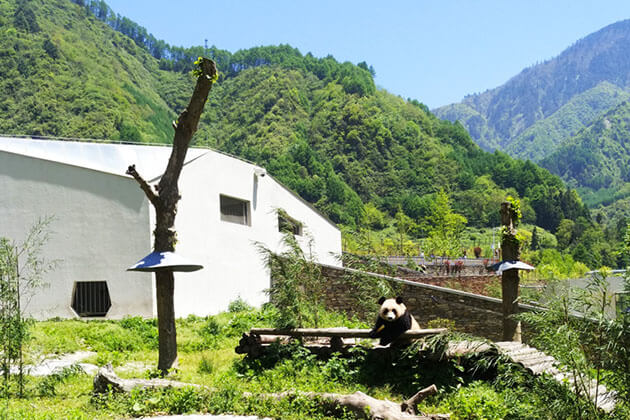 Bifengxia Giant Panda Base
Approximately 150 kilometers to the southwest of Chengdu, Bifengxia Giant Panda Base is an option that requires a long drive as well as more money. However, it is worthy if you are looking for visiting pandas in less crowded environments with fewer tourists around. The base is also suitable for a 2-day panda volunteer program or more. Besides, do not miss out a wonderful time walking along the gorge and admiring the varied terrain and vegetation with several valleys and waterfalls within the center.