Welcome to China, welcome to the wonderland of giant pandas. If you are true panda lovers, this content is written for you. While taking a China tour package, do not forget enjoying Giant Pandas discovery to the top selected places of great pandas from Chengdu, Dujiangyan or Wolong to Beijing, Shanghai and more. No matter your time is short or extended in the country, you can either participate in brief trips or spend time for a meaningful volunteer program in the Chinese panda base. There are both natural habitats and city zoos basements for tourists to encounter with the charming pandas and fulfill to the best satisfaction.
Explore Best Natural Habitat Panda Bases in China
Travel to the wildlife environment is the best way to record real life of Giant Pandas, life cycle and daily behaviors. Besides, you can have a closer look at giant pandas at different ages from the newborn to the aged then feel much close to these lovely creatures. Moreover, you have chances to engage in several exciting panda volunteer working.
Chengdu Panda Base – Natural Environment
Chengdu Research Base of Giant Panda Breeding often called Chengdu Panda Base, which Chengdu Panda Base is marked as the must-see tourist attraction when coming to Chengdu. There are up to 120 giant pandas (including baby ones) and 76 red pandas in the base, thus exploring this place will provide you with chances to feast your eyes with the adorable animal. The external condition that could attribute to your perfect panda trips is from March to May, the "falling in love period" that the pandas are very active to play with each other, climb the tree, crawl, and roll on the ground outside, etc. But do not worry if you only have winter time in China, you may see tiny newborns in the nursery. In your trips, remember to visit the Giant Panda Museum as well as Giant Panda Story Cinema to enrich your mind with more information about history, why giant pandas are endangered and how to protect them.
Dujiangyan Panda Base – Best Place for Volunteering
Dujiangyan Panda Base is the nearest panda base from Chengdu which can see giant pandas as well as do panda volunteer program, offering you a much more relaxing, intimate and educational panda experience with fewer crowds. The place highlights with the verdant feature, favorable scenic environment. Dujiangyan Panda Base is even more natural situated bamboo forest, green mountain, fresh air. Remember to get a bunch of nice shots. The most interesting experience definitely should be the "panda volunteering program" with amazing work – cleaning the cages and enclosures, feeding one of the assigned pandas. Particularly, tourists can enjoy the fun of making "panda cake" and after you can feed pandas with your hand-made cakes and observe how pandas eat and know details about their diets and eating habits. At the end of the program, volunteers can receive the panda volunteer certificate assigned by the China Conservation and Research Center for the Giant Panda.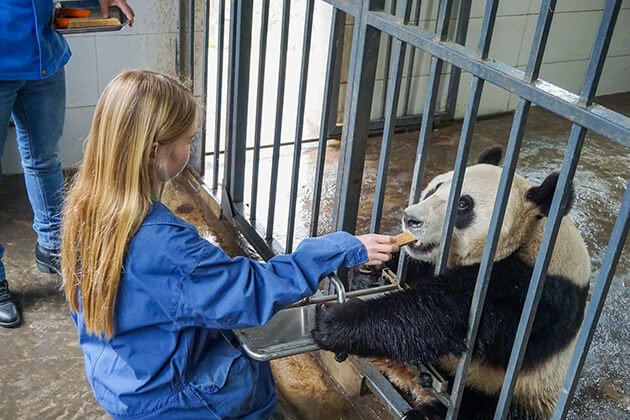 Visit Awesome Ya'an Bifengxia Panda Base – for Volunteer Working
Known as "the Hometown of Panda Stars" since it is located in the "Lung of Sichuan" at an altitude over 1000 meters, this panda base is the best combination of nature and animals. Pay an in-depth visit to three scenic spots – White Bear Ground, Panda Kindergarten, Overseas-born Giant Panda Paradise, where you can see lots of pandas ranging from the new-born to the old in different enclosures. Of course, you won't miss overseas-born giant pandas. If you want to do long-term volunteering work, this base is a nice choice. Some activities are available such as scooping the poop, breaking bamboos for food, take care of the "baby pandas" etc.
Besides time for the giant pandas, you can take time to wander Bifengxia Wild Animal Park to encounter other precious animals which has over 400 kinds of species.
Wolong Shenshuping Panda Base – the Largest world-scale Center for Giant Pandas
Standing about 1700 meters above the sea, Wolong Panda Base offers the most harmonious, dynamic and self-sustaining base for giant pandas around the whole globe. If you are travelers who like to see giant pandas in wild nature, you are highly recommended to come to Shenshuping Panda Base. Here you can spend your time doing the panda volunteer program or even hug a "Red Panda" in your arms. The chain of activities includes take part in dumping the poop for giant pandas, prepare bamboo for food, flush the enclosures, visiting other feeding areas of giant pandas under the guidance of the staff, make panda cakes and feed pandas on your own. You can choose to involve in the "Red Panda Volunteer Program" which you have the rare opportunity to take photos with one of them.
Visit Pandas in Inner City Zoos
Exposing wildlife bases of pandas is an authentic way without a doubt in your trips, but don't worry if your time is limited since you still have other options in cities. The efforts and finance invested here can contribute to the best natural-like environment, which will surprise you.
Beijing Zoo
If you visit China for the first time and have no time to Chengdu, you can seize the chance to see the adorable "national treasure" – Giant Pandas in Beijing. Beijing Zoo is considered one of the largest zoos in China. The zoo and its aquarium have over 450 species of land animals and over 500 species of marine animals and it is home to 14500 animals. The Panda Garden has enclosures designed for a range of pandas from adults to sub-adult and "mom & baby" pandas. The lovely creatures will give you fun, laughter, and happiness during your visiting, making your trip more memorable.
Chongqing Zoo
If you are not visiting Chengdu, the ultimate option is to see giant pandas in Chongqing. Chongqing Zoo breeds 15 pandas in the panda garden and it is the zoo with the largest number of giant pandas. Tourists can observe the adorable pandas not only outdoor but also in the enclosures. Besides watching giant pandas, you could have a great time with red pandas and other animals such as South China Tiger, African Elephant, White Tiger, and more.
Shanghai Zoo & Shanghai Wild Animal Park
Welcome to Shanghai Zoo! This is the place that the culture of the east and west are united, which enables visitors to explore stunning sites with west-meets-east culture and discover Giant Pandas. Although Shanghai Zoo – the main zoological garden just keep 2 giant pandas in the garden, visitors still can interact with other rare animals, like golden snub-nosed monkeys, South China tigers, lions, black bulbuls and animals from other parts of the world. Another panda zoo base is called Shanghai Wild Animal Park. This is the very first safari park in the vast country and rated as National AAAAA Tourist Spot.
Guangzhou Chimelong Safari Park
The number of Giant Pandas in Guangzhou Chinelong Safari Park goes up to 14 individuals. China long Safari Park in Guangzhou, rated as National AAAAA Tourist Spot, is the safari-themed park with the largest species in the world. It has an amazing collection of beautiful and exotic animals, which includes the World's largest selection of white tigers, koala from Australia, China giant pandas, black rhinoceros from Africa or Asia elephant from Thailand…and over hundreds of species and animals. Why not traveling here and taking photos of giant pandas at any time to leave the best memory in your camera and catching the time to take pictures together.