Do you know cash was first used in China, the rule of the Tand dynasty (618-907) while it was not until the 17th century that European countries used cash widely? Nowadays, up to 60 countries use the official Chinese currency in foreign exchange reserves; it is becoming stronger, international and more stable. This is to say there are a lot of things to learn about Chinese currency, especially when you are planning to visit China. Working out to get some knowledge about the exchange rate and other issues is pivotal to design your own trip and avoid being confused when making a purchase. Let's have a look at the practical guide to money in China drawn from our firsthand experience.
Information about Chinese Currency
Some visitors to China are not sure how to call the Chinese currency. In English, some call it the Chinese "dollar". In Chinese, there are three names and two commonly used symbols.
The official name of the currency is the Renminbi, which is literally translated as "the currency of the people" and is abbreviated as RMB. The most common international usage is the Yuan, which is abbreviated as CNY.
The official symbol of the Chinese Yuan is ¥. However, in most stores and restaurants in China, the symbol is represented by the Chinese character instead, pronounced "Yuan". People often use the local name "kuai", instead of yuan. One more thing that could even confuse you is 1/10 yuan, which can either be called a "mao" or a "jiao".
Chinese Currency Exchange
Before Your Trip
It's more convenient than changing your money in China because you will not be confused by the language barrier. Therefore, you try to exchange some money in advance at your local bank before you travel to China, the amount can be about 20,000 CNY (3,150 USD).
Exchange Your Currency in China
If you do not want to exchange currency in your country and want to address this issue in China, there are some feasible ways for you.
Prepare a note about things you want to do and know about the currency before you go to a bank in China. This method seems traditional but it still is the most reliable way to exchange money in China.
Another popular way to exchange cash in China can be taken place at the airport or at your hotel. It is convenience that outweighs this way to exchange at the bank. There is no need to stay in the queue but the exchange rate will be at least 10-20% less than at a bank.
Methods of Payment in China
Cash
It is not by accident that cash is considered as the king of payment methods in China for travelers. This kind of payment is so easy and accepted in every corner of China. Thus, remember to prepare enough cash especially when you want to explore rural areas.
Mobile Payment Apps
Currently, mobile payment dominates in China, the proof is that you can see the payment QR code everywhere. However, it may not be a good choice for foreign travelers. If you only have a short trip to China, we suggest coming back to the above method (cash). In case you have a longterm journey in China or just want to experience this kind of payment, it's essential to try it.
Local people use AliPay or WeChat Pay for most transactions. These are the 2 major mobile payment platforms in China which are accepted by people from big brands to street vendors
Both AliPay & WeChat Pay start to allow foreign visitors to use their apps in China without a Chinese bank account.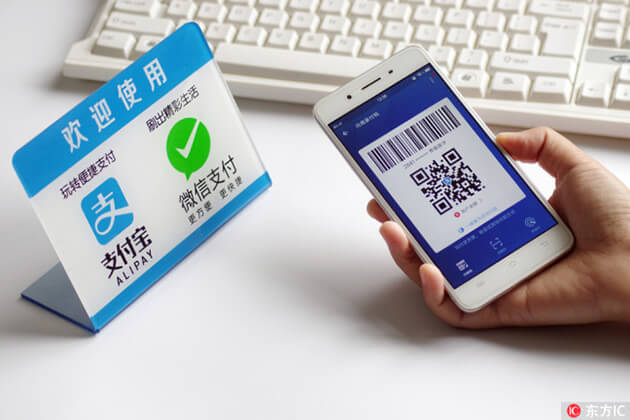 Credit card
In major cities, such as Beijing, Guangzhou, Shanghai & Shenzhen, you can feel free to pay with foreign credit cards. This doesn't mean credit cards are popular everywhere. There are some situations that you can pay by credit cards: Most Major Hotels (Five-star hotels, four-star hotels,…), Restaurants (in some famous local hotels), Shopping Malls, Travel agencies, international ships, and airlines or trains.
Credit cards and bank cards associated with China's own 'Union Pay' system are becoming ubiquitous in their use, but foreign credit cards are still limited when making purchases.
Travelers Cheques
Because of the availability of ATMs across mainland China, travelers' cheques are not as widely used so you should not choose this option. However, you may find it easy to cash travelers' cheques at tourist hotels, except for budget hotels and restaurants. A tip for you is to keep your exchange receipts, then you can change your money back to the original currency whenever you leave.
When you enjoy your own unique China vacation, I know the money will not be your matter as long as you receive excellent services. However, I believe that the information above is still useful. If you have any questions, contact us without any hesitation.