Giant pandas are adorable and harmless creatures so why don't you choosing this place for volunteer work. It's not simply a field trip to appreciate the wonderful animal but it also offers chances to participate in volunteering to help preserve this endangered species. Among the numerous spot which is available for bear volunteering, you should consider the bear bases in Chengdu. This place is known as the best place to do encounter with the life of bears have opportunities to get the best experience of supporting delightful bears. We provide you with some useful tips so that you will have the ultimate preparation for volunteering with giant pandas.
Places to Volunteer with Pandas
Dujiangyan Panda Base is a great place to volunteer with giant pandas. Volunteer programs are accessible at the following panda bases: Dujiangyan Panda Base, Bifengxia Panda Base, and Wolong Panda Center.
If you wish for day-long volunteer experiences, we highly recommend you head to Dujiangyan Panda Base as it is easily reached.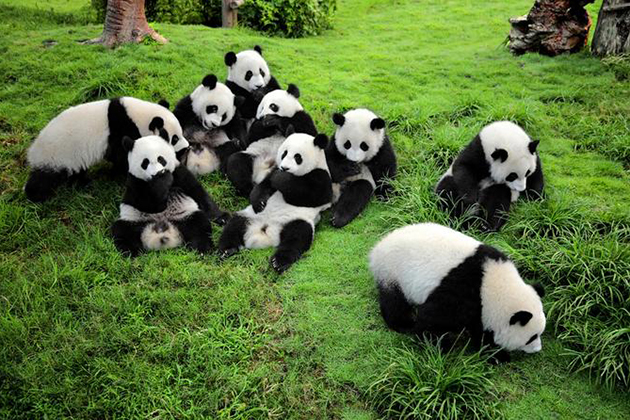 In case, you want a longer program, Wolong Panda Center seems to be the best place to volunteer. The programs are flexible and less busy but have a longer drive. But after all, Bifengxia still is an option for you.
Should you desire to have a variety of experiences, we heartily recommend a longer drive Wolong, the base is the hometown of wild pandas. There, you can choose to experience activities including volunteer programs with giant pandas, red pandas, and panda babies, a nighttime visit to the panda base, and a hike in the habitat of wild pandas.
Volunteer Activities Included
Giant Pandas Keeper Program
Volunteering activities with giant pandas are sketched fairly similar in each program. For day program, there is a list of tasks for you to expect:
Food preparation: Cleaning and carrying fresh bamboo; Making cakes for pandas
Breardirect activities: Feeding the pandas; Cleaning the pandas' enclosure; Collecting and weighing the pandas' feces
Knowledge exploration: Taking a tour around the panda base; Get closer and study giant pandas and learn how to research panda behavior; Watching documentary movies about giant pandas.
Wolong Baby Panda Keeper Program
Wolong Baby Panda Keeper Program newly established program offers some special experiences. Imagine that you will hold a baby panda in your hands and feed it (either with milk or bamboo shoots). It must be the most pleasing experience in life. Besides, volunteers also have opportunities to observe the pandas' behaviors from the staff-only room. Feel free to ask for an explanation about their acts, the accompanied staff will answer you with pleasure.
Wolong Red Panda Keeper Program
Wolong Red Panda Keeper Program offers you chances to feed several cat-sized red pandas directly (without a fence). In other words, you can touch, rub them gently and take photos for memory.
Taking part in this program is a good occasion for you to study the interesting differences between the red panda and other giant panda cousins.
Requirements for Volunteering
Age Limits
The age limitation of the giant panda and baby panda volunteers ranges between 10 and 70 years old. The age restriction for the red panda program is from 8-70 years old.
The cost for children of 10 years old and above is the same as the cost for adults. If your children are aged up to 9 years old, you can still take them with you during the program.
For the safety reason, the children are not allowed to enter the room where the panda cage are located but guides and the staff can help them to take care of them while they are volunteering.
Physical Examination Record
A Physical Examination Record is required when you want to apply for the panda keeper program. Feel free to contact us or leave a comment on this article for the form of Physical Examination Record. Should you have any questions, do not hesitate to inform us, our travel expert will give you the best advice.
How to Apply for a Panda Volunteer Program
The recommended option to apply for a volunteer program is through travel agents. They either can offer a China package tour including the program, a transfer to the panda base in Chengdu, and a tour guide for, who can take care and support your volunteering work with his or her knowledge about bears in some sections of the day. Moreover, your preferences and requirements such as work as a giant panda keeper, take care of baby pandas and even track wild pandas in a remote nature reserve,… can be met as long as you inform in advance.
Panda Volunteer Program Tips
Book Well in Advance
To avoid the case that the programs become fully booked because the number of places for these volunteer programs is limited each day. For example, the daily quota at Dujiangyan Panda Base is often 60 volunteers. The ideal time to book is at least one week in advance.
Embark on the Instructions
Giant pandas naturally lead a solitary life, which is sometimes very hard for them to tolerate outside influences. You are expected to not disturb their peaceful life for the sake of their health. Limit to make any noise or sudden movements that might startle the pandas. Some of the activities might be changed if they are not suitable.
Please take note that you will not approach or throw any food to the pandas unless you are allowed to do by the panda keeper. If not, your action could disturb the pandas' eating regime, then cause them to become sick.
Remember that you follow the panda keeper's instructions. Because of safety rules, do not approach or get into the cage or touch the adult pandas, or even let them touch you (unless the panda keeper let you). Take photos or videos are only permitted when you are allowed.
Dress Code
For your safety, wear shorts or slippery footwear are not allowed when you carry bamboo, please dress as the requirement of the base staff. Since pandas have a keen sense of smell, please do not wear perfume or nail polish as you get close to them during the tour.
At the end of the volunteering work, you can get the certificate for taking care of adorable bears and respecting the pandas.