Shanghai – the largest city in China, offers many exciting sightseeing opportunities for travelers. Despite having a population of more than 24 million, this crowded city still offers quieter historic districts and attractions along with many newer tourist sites. From iconic landmarks to museums teaching the culture and history of Shanghai, beautiful green spaces and local hangouts, Shanghai is a great destination to explore for travelers who are looking for an astonishing China tour. Without further ado, below are the best things you must do and see in Shanghai!
Best Places to Visit in Shanghai – Destination to Go
The Bund – One of Shanghai's coolest sites to cruise!
The Bund, more correctly known as Zhongshan Lu in Chinese, is a broad promenade running along the west bank of Huangpu River. Facing the modern skyscrapers Oriental Pearl TV Tower and Jinmao Tower across the river, the Bund is a big stage displays its rich collection of early 20th-century architectures.
There is a strong European influence in this area shown in the 52 buildings with various international architectural styles which makes the Bund "An Exhibition of International Buildings". Despite respectively built with different architectural styles and time during the 20s and 40s of the 20th century, these buildings still were well harmonized.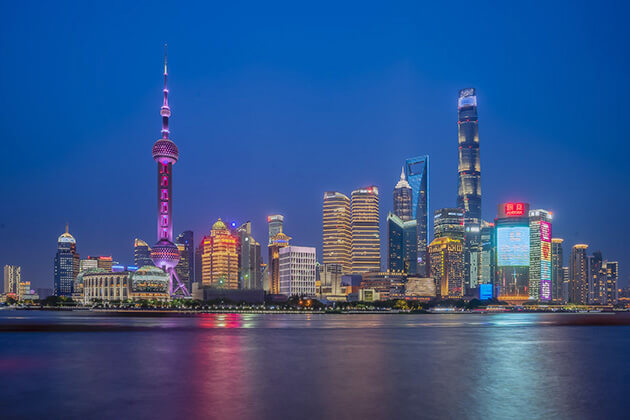 Along the Bund, Shanghai's street life is bustle with local people doing exercise and practicing tai chi and qi gong even at dawn. Day and night, Chinese tourists, foreigners, and Shanghai locals walk to the Bund, snapping photos of each other on the skyscrapers. At night, the towers are lit with flashing neon lights reflected in the Huangpu River.
Cruise along Huangpu River on your way to The Bund is considered as the best way to see how the West meets East, tradition mixes with modernity in Shanghai. It is also a pleasant place to visit and has an interesting museum dedicated to The Bund's history.
Yuyuan Garden
Located in Huangpu District, the central area of Shanghai, Yuyuan Garden is the only fully restored classical Chinese garden in Shanghai. It is praised as a pearl of classical gardens in the Southern area of the Yangtze River with a history of over 400 years. This ancient garden is owned by Pan Yunduan who had invited a famous designer to build this garden for his parents as the tranquil place to spend the rest of his life in comfort and happiness.
The garden is unique in its design which includes six main scenic areas and 30 pavilions outfitted with ornate structures such as decorated bridges and colorful pagodas as well intimate enclaves that are separated by "dragon walls" (partitions with stone dragons lying on top). Outstanding features include the Heralding Spring Hall, the Jade Magnificence Hall, and the Lotus Pool.
Spring is the best time to visit Yu Garden when it is dotted with green trees and blossoming flowers. If you are in Shanghai for a few days, visiting the garden on a weekday is highly recommend as it will be less crowded than on the weekend.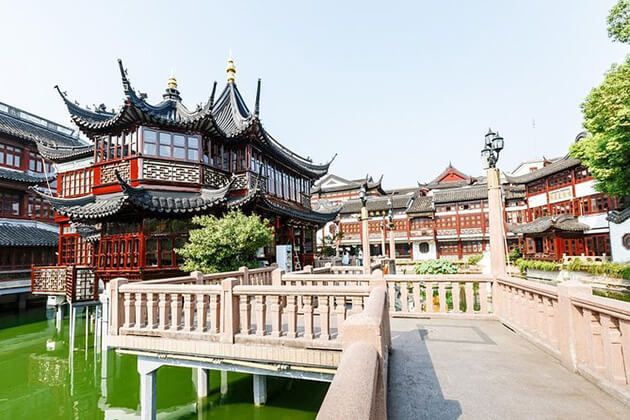 Longhua Temple and Pagoda – A worth going religious place in Shanghai
The Longhua Temple is notable for the oldest temple in Shanghai for its long history of over 1,700 years. Templer had been used as a Japanese-run internment camp during World War II since first built in 242 AD at the period of the Three Kingdoms. As being destructed by the wars, most of the buildings here were reconstructed during the reign of Emperor Tongzhi and Guangxu in the Qing Dynasty.
This ancient site consists of five large halls including the Maitreya Hall (Mile Dian), with its large Buddha statue; the Heavenly King Hall (Tian Wang Dian), dedicated to the Four Heavenly Kings and the Grand Hall of the Great Sage (Daxiong Baodian), with its fine statues and a 16th-century bell. The Longhua Temple is often used for regular Buddhist ceremonies.
Shanghai's temples can be a wonderful place to find peace within the noise of city life whether or not you are religious. The best way to appreciate the temples is to simply walk around the complex or buy some incense and send up a prayer of your own.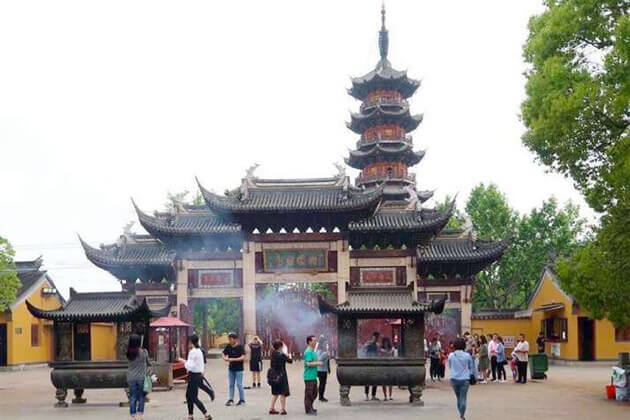 Shanghai Museum
Located in the center of Shanghai in People's Square, Shanghai Museum is known as China's most important museum of classical Chinese art since founded in 1952. Within the museum are more than 120,000 pieces spread across 11 galleries where you could find ancient bronze metalwork, ceramics, and Chinese sculpture. The dress and costume galleries showcase intricate handiwork from some of China's 55 ethnic minority groups.
This museum is highly esteemed by English-speaking travelers for its presentation of both Chinese and English exhibit descriptions. Others love the huge sources of historical articles available for view and appreciated the comprehensive history lesson they got out of from it.
Since there is no entrance fee, you are likely to encounter many others looking to take advantage of this freebie, so come early if you can. The Shanghai Museum is open from 9 a.m. to 5 p.m. daily, with last entry at 4 p.m. You can easily reach the museum by getting on the metro at People's Square Station.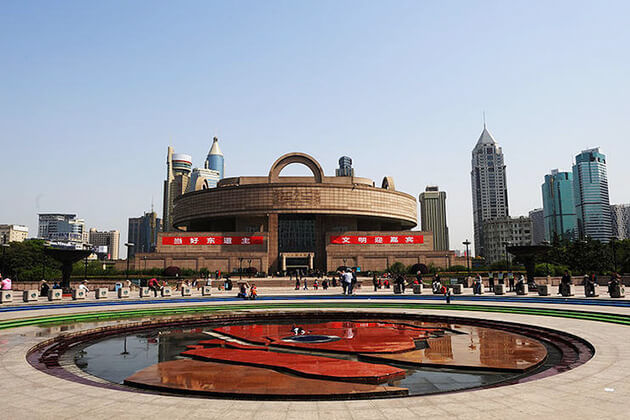 Shanghai Science and Technology Museum- Awesome place to visit in Shanghai!
Shanghai Science and Technology Museum, the largest of its kind in China, is one of the top museums that attracts more than two million visitors each year. It first opened in 2001 and offers a huge range of things to do for people of all ages.
The Shanghai Science and Technology Museum is divided into two wings: one devoted to nature and the earth, and another that features interactive exhibits on computing, robotics, cells, space travel, and other cutting-edge science. The museum also features four cinema screens, two of them are IMAX screens. This is a great attraction for families, or for adults who get excited over the latest scientific advances.
Other attractions for tourists include the Shanghai Ocean Aquarium, renown for its 120-meter tunnel, which provides a close-up view of the region's diverse marine life, and the Shanghai Zoo, famous for its large collection of native species such as giant pandas and South China tigers.
Amazing Things to Do in Shanghai
Take a ride on the Maglev – The world's fastest train
Taking a ride on the Maglev train from Pudong Airport to the city center is a perfect way to feel super-modern Shanghai. With the maximum speed of 430km/h at near flight speed and the actual operating speed is 300km/h, the magnetic levitation train takes just eight minutes to make the 30-km (19-mile) journey to central Pudong.
Another special thing about the Maglev train is it does not have wheels, consumes less energy than airplanes, is less noisy, runs smoothly, and is environmentally friendly. Moreover, there is a museum dedicated to exhibiting the history of the train and the engineering feats required to construct it. It locates on the Maglev Longyang Road station, where the train stops in the city. That said, most visitors recommend the train for more practical purposes.
Best panoramic view of the city from the World Financial Center
Shanghai World Financial Center is a supertall skyscraper located in the Pudong district of Shanghai with overall 492 meters (1614 feet). It used to be the tallest building in the world by roof height and the second tallest building of Shanghai until now. The building is best known for its large aperture on the top, which makes the building look like a bottle opener.
Unlike the solemn name, Shanghai World Financial Center is not just for financial use, it has a series of upper floors open to the public as viewing platforms, which known as SWFC Observatory. The second tallest building in the world is the greatest place to have elevated views in the Shanghai metropolitan.
Though you can view the scenery from various floors, make sure to go to the world's highest observatory — The Sky Walk — on the 100th floor where you can admire the Chinese metropolis from 474m (1,555 feet) above the ground. There is a 55-meter long transparent sightseeing corridor. Walking on this corridor would be an exciting experience. Witnessing sunset or sunrise from this observatory is highly recommended.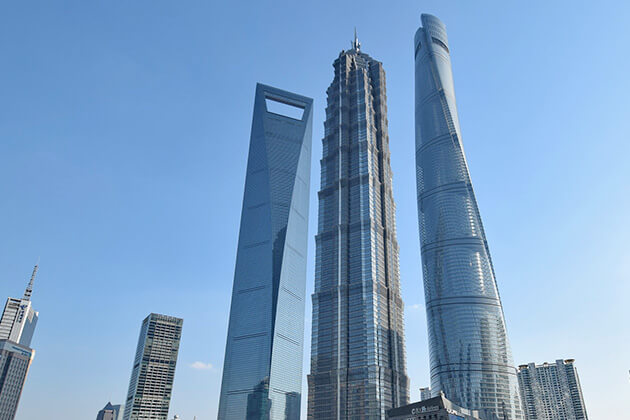 Explore Silk Making Process in Suzhou Silk Factory
China is known for its silk over the years and Suzhou is the most famous place for silk producing. Possessing a history of silk-making of over 4,700 years, Suzhou was once a splendid place to produce silk products to the whole of China and is praised as the "Hometown of Silk". Nowadays, it is still working hard to provide soft, exquisite, elegant, royal, and treasurable silk items to other countries.
For its traditional silk-making skills and direct exhibition of Chinese silk culture and history, Suzhou Silk Factory has been recommended by BBC Travel. A tour of this ancient place will give you a firsthand view of how this delicate material is manufactured from the silkworm. You also can see closely the detail steps from silkworm breeding, selecting cocoons, making silk, feel the soft, thin and light silk quilt and fill your eyes with various unprecedented excellent silk exhibits, which will tell why the Chinese silk is so charming that many people are amazed by it.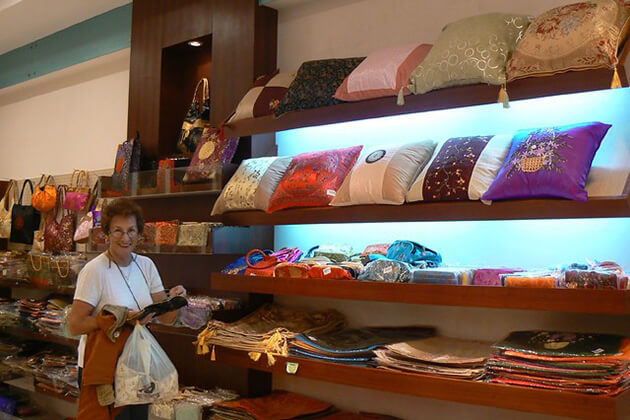 Enjoy Xiaolong Bao at Din Tai Fung
A Shanghai Classic – these soup dumplings, also known as Xiaolong Bao, should be your first meal in Shanghai. Elegant thin-skinned dumplings, with pork or vegetable or shrimp or crab fillings inside with a delicious hot broth, each is an explosion of flavor in the mouth. You will find it hard to stop!
You could try this exquisite xiaolongbao in Din Tai Fung, a well-known Taiwanese chain of restaurants. Though not originally Chinese restaurant, Din Tai Fung is one of the best places where you can enjoy Chinese Cuisine.
Here, you will definitely love the prompt service and find the most authentic experience for traditional Shanghainese soup dumplings. Though the classic Shanghai locations will provide a more adventurous dumpling experience, DTF is a better choice if you are looking for a more civilized meal. If you are a western visiting Asia, this one is a must!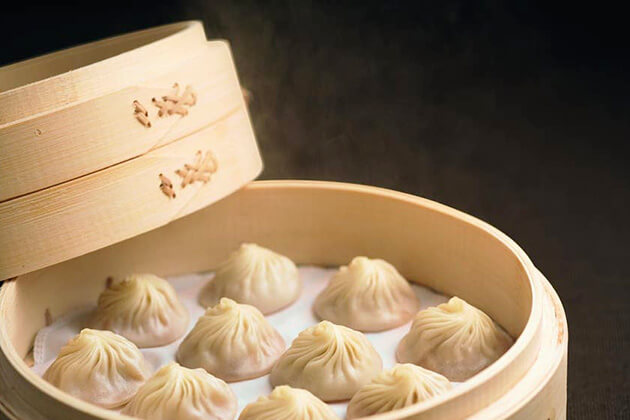 Get a Foot Massage
With so many things to see and do, vacations can often be far from relaxing. Taking a load off during a foot massage in Shanghai is the perfect way for tired travelers to relax and unwind. In fact, no trip to China is complete without the authentic massage experience. Picking one of the parlors next to Huanghe road is bound to make you experience probably the finest foot massage of your life.
Foot massage offers some splendid foot oil massage and aroma oil massage in an amazing atmosphere. You will also get served by some friendly staff and professional therapists. There are truly some great deals you can take advantage of and get yourself de-stressed before getting back to daily working life.