Chinese wonderland never ceases to explore and the best way to discover it to full is to participate in exciting outdoor activities. Most of the tourists to China have interests in the wealth of history and culture, though, a lot of travelers heading to the country in seeking adventure. China, a country in East Asia comprised of incredible grasslands, mountains, deserts, and bustling cities. It is the beauty of multiple aspects that simulate people to put their foot on this vast land. The followings are top recommendations to those who love outdoor activities.
Favorite Waterbased Activities in China
Taking Canal and River Trips
There is a huge number of towns surrounded by water to venture into South China such as Zhujiajiao, Zhouzhuang, and Jinxi. In Hangzhou and Suzhou, there are up to 200 small towns connected by the web of canals. They are considered as Oriental Venice since ancient times, you can witness the peace and quietness of them nowadays. You should take a bamboo-roofed boat, travel on the emerald green crystal water and visit a tranquil town, marveling at historic buildings and the local lifestyle. Traditional houses are facing the water, they are connected by several stone bridges that cross the canals and streets paved with stone slabs.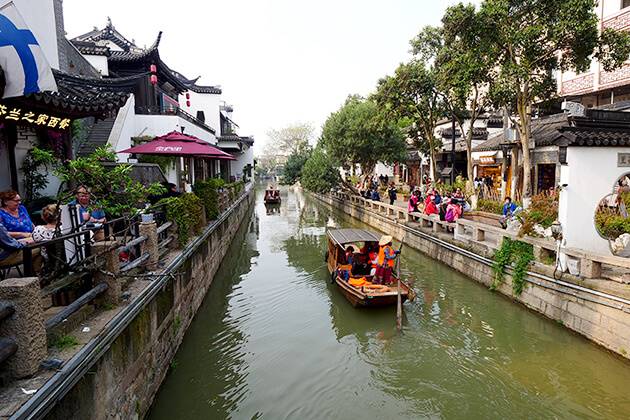 Diving and Snorkeling
Mentioning water-related activities, we must count diving and snorkeling in Chinese, especially reasonable on Hainan Island (southern China). The water level visibility in some areas is form 30 to 50 feet. Shipwrecks are available for you to explore, the colorful and flourishing of the marine life and sponges might surprise you. The undersea visibility often depends on the season you visit, but most of them are all fantastic. Diving Operators in China are accessible in the areas of Hainan Island, Hong Kong, etc. One of the top list destinations for diving and snorkeling is Hainan Sanya Natural Coral Reef Reserve. The reservation zone protects eye-catching coral reefs, shells, seaweeds, and other underwater animals and plants. The ecosystem of coral reef underwater is an unforgettable experience for tourists.
Fishing
This kind of outdoor activity is quite popular in China because of the web of canals and rivers everywhere. For sport, fishermen can enjoy deepsea fishing, slow or fast trolling, longline fishing, fly casting, surfcasting, wet fly casting and night fishing. There is an endless number of favorite fishing rivers, canals, and lakes in China. Tourists can head to traditional fishing villages and enjoy fishing with local experts.
Explore China through Mountain and Road Activities
Hiking
The terrain of mountains in China is favorable for hiking fans and extreme sports lovers. No matter the kinds of hiking you are looking for from hiking on steepest areas, terrific cliff to the gentle hill. We can conquer the Great Wall at the section of Jiankou, which is completely wild and original. On the steep terrain, remember to grab firmly objects around you and move bit by bit.
Another favorite hiking destination in Zhangjiajie National Forest Park. The highlight of this area is huge natural stone pillars. It often requires you about 2 to 3 days to fully discover Zhangjiajie with three sections. You will have chances to admire the stunning forest of stone pillars which inspired some of the amazing scenery in the famous movie Avatar. If you are looking for a bird-eye view of Yangshuo, the suggestion for you is Xianggong Mountain in Guilin
Though Xianggong Mountain is not as high as your image, it still gives you a stunning panoramic view from the top of the mountain.
Climbing
Climbing the Longji Rice Terraces features with magnificent rice terraces together with a special minority culture. This hands-on experience is different from climbing the karst landforms in Yangshuo. People suppose it is the best way to venture to every corner of the Longji Rice Terraces. You also can go sightsee natural spots and participate in outdoor activities. The top leisures are booking the wooden accommodation and contemplate the sunrise, sunset. Rock climbing in China at Yangshuo's Moon Hill is highly rated as the pearl for those who love climbing. Tourists can find most of the type of rock wall in Yangshuo, which includes the beautiful Moon Hill.
Riding
Riding is a perfect way to completely explore the life features and natural beauty from cities to the countryside. The very first thing needs to be held in your hands is a good map, search the wind direction, pick some country roads and ignore the main roads.
Xi'an City Wall is not only a great attraction but an awesome spot for riding in Xi'an. The architecture built since the Tang Dynasty with a length of 14 kilometers will satisfy you. The favorable warm sunshine along with the ancient architectural styles create picturesque scenery. Besides, riding alongside the Li River in Yangshuo brings you with the down-to-earth practice. Bicycling across the dreamlike landscape makes you smile while sightseeing the unique karst system. Take a gentle riding around the city and observe city life from a different perspective.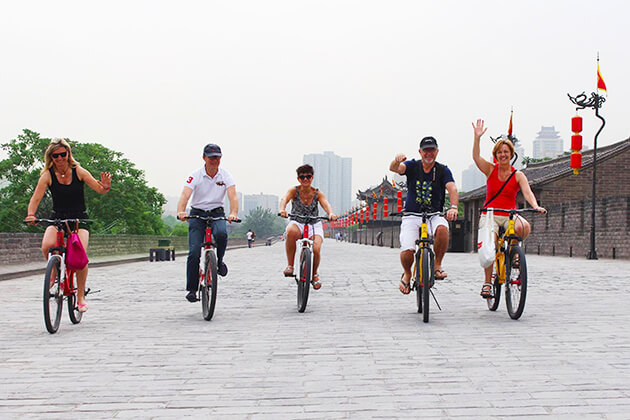 Other Outdoor Leisures in China
Birdwatching
Birdwatching is available in the rain forests of Yunnan, the coastal areas in Shanghai and also highlands of Tibet. Yancheng Reserve zone in the Yangtze Delta is the home to red-crowned cranes and reed parrotbills. The oriental storks and the world black-faced spoonbills. This is named as "wetland parks" in Yangtze Delta. Wolong Reserve in Sichuan is the most famous reservation area for pandas. It is also home to more than 280 species of bird.
Skiing
It is the fact that China has no shortage of mountain ranges and the freezing winter together with the proper investment in skiing tourism which enables tourists to go skiing. Although, China is not the very first country that comes to our mind when we think about skiing or snowboarding. Skiing in Jilin and Yabuli International Ski Resort is highly suggested. They are on the top list of the largest skiing resorts in China that skiing enthusiasts should not ignore. Particularly, Yabuli International Ski Resort features with a lot of chair lifts, trails the vertical drop (up to 700 meters). Necessary equipment such as ski boots, skis, snowboards, skates, and toboggans could be rented at reasonable prices. What is more perfect than fulfill your China tour with skiing in the incredible resorts of snow? Let's come and have a taste of China in this way.