General Information of China Classic Tour
Duration: 13 days
Start/ End: Chengdu/ Yangshuo
Tour Route: Chengdu – Shangri-la – Lijiang – Dali – Guiyang – Guilin – Yangshuo
Tour Type: Exploration and Experience
Tour Category: China Classic Tour
Tour Customizable: Absolutely! (Inform us)
Guides: Local Guide (Local Tour Guide)
Transportation: Private first-class air-conditioned vehicles
Accommodation: Listed below or equivalent.
Brief Itinerary
Day 1: Welcome to Chengdu (D)
Day 2: Chengdu – Mt Emeishan (B, L, D)
Day 3: Mt. Emeishan-Leshan-Chengdu (B, L, D)
Day 4: Chengdu – Shangri-la (Wangjiang Bamboo Park / Kuanxiangzi ) (B, L, D)
Day 5: Shangri-la Tour (B, L, D)
Day 6: Shangri-la – Lijiang (B, L, D)
Day 7: Lijiang-Dali (B, L, D)
Day 8: Dali (B, L, D)
Day 9: Dali – Guiyang (Flower Stream Park ) (B, L, D)
Day 10: Guiyang – Libo (Xiaoqikong Scenic Area) (B, L, D)
Day 11: Libo – Guilin (B, L, D)
Day 12: Yangshuo – Longsheng (B, L, D)
Day 13: Longsheng – Guilin departure (B)
Detailed Itinerary
Day 1 Welcome to Chengdu (D)
Welcome to Chengdu – the homeland of panda! After landing at the airport, you will meet your tour guide and driver and transfer to the hotel. Check-in and relax in the hotel.
In the evening, participate in a welcome dinner with a hot pot, the first food adventure in China.
Day 2 Chengdu – Mt Emeishan (B, L, D)
In the morning, have breakfast at the hotel. Then we gather at the meeting point for a briefing before starting. Today, we leave for the Giant Panda Breeding and Research Center, heading to the north of Chengdu, in which you can see the adorable pandas eating and playing. Do not forget to take a picture of them. The most amazing part is that you are allowed to hold a panda in your arms to take a picture when donating some money for the panda base. We can be flexible to walk in the wide garden of bamboo if you feel active.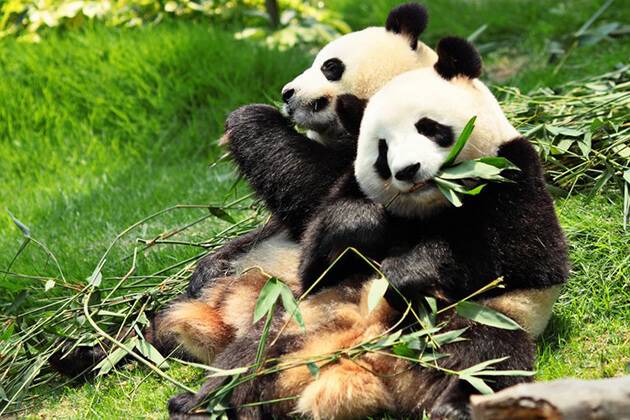 After lunch at a local restaurant, you will be driven to the Chinese Herbal Medicine market. When you be there, you could see a wide range of herbs and animals for medical purposes. We continue to drive to Mt. Emeishan, a famous Buddhism holy mountains in China.
In the late afternoon, we discover the beautiful mountain on foot. You'd better come here in the spring since this time of year in Emeishan is considered as one of the best in China. Feel free to ask your guide for supporting you to arrange the evening program.
Meals: Breakfast, Lunch, Dinner
Day 3 Mt. Emeishan-Leshan-Chengdu (B, L, D)
Our tour route is: Fuhu Temple, Luocheng Old Street
Fuhu temple is associated with a quiet and peaceful nun temple, like a hidden sanctuary in the forest. It is a pleasant experience to walk in the forest and listen to the sound of nature. After that, we take a 2-hour driving to Leshan and visit the Giant Buddha Statue. For lunch, we will enjoy the delicious Xiba Bean curd banquet. The bean curd of Xiba is the most famous in Chengdu and China.
In the afternoon, let's continue to transfer to Luocheng old street. Luocheng Old Street is well preserved with its original state of none tourism due to off-beaten track tourism. This is a small street but impressive to watch local old people communicating and playing bridge card in the old-style tea house with enjoyment to their simple life. Of course, we will experience the authentic countryside.
Later in the afternoon, come back to the hotel in Chengdu.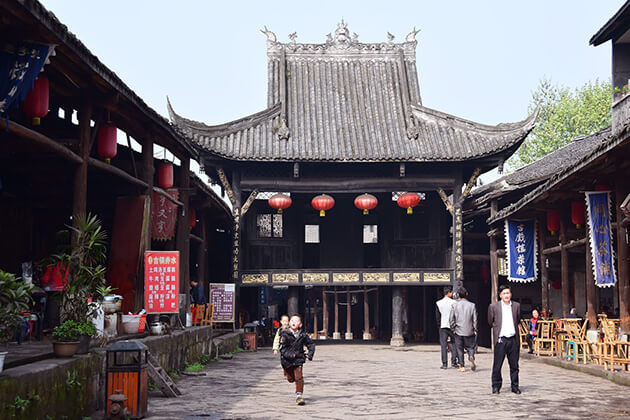 Day 4 Chengdu – Shangri-la (Wangjiang Bamboo Park / Kuanxiangzi ) (B, L, D)
After breakfast, we will travel to Bamboo Garden, or Wangjiang Park, which can be traced back to 1000 years ago. The purpose is to honor famous women poet Ms. Xutao in the Tang dynasty. The park features with its forests boasting of 100 types of bamboo. Take a walk in the Wide and Narrow Alley, built about 300 years ago. Once coming here, you can trace the ancient history through the square yard and wooden door. This is a good place for those who love photographing.
In the afternoon, we will catch a flight to Shangri-la, also called the "Eden in the dream". Upon your arrival, feel free to stroll in the small Tibetan town.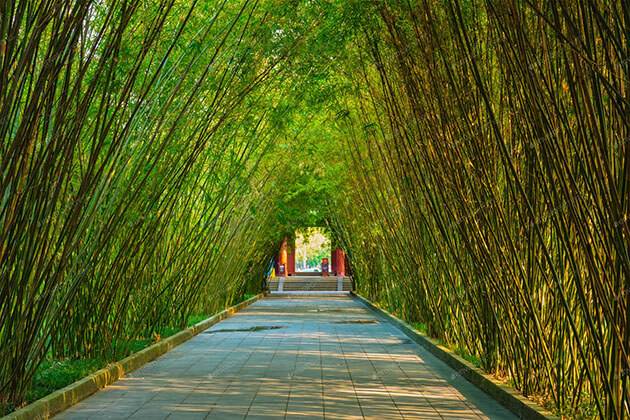 Day 5 Shangri-la Tour: Pudacuo National Park/ Songzanlin Monastery / Old Town (B, L, D)
Shangrila is identified with beautiful lakes, grassland, monastery and snow peaks. Our tour route will start from Pudacuo National Park. It is not difficult to see that the Bitahai Lake and Shudu Lake are two gems on this land. Besides, you can sightsee the beautiful lakes, pastures, and virgin forest around, take a short time for riding or hiking around it.
After lunch at a local restaurant, we return to Shangri-la city. Trek to Songzanlin Monastery to take a look at the largest Tibetan Monastery in Yunnan with a history of over 300 years. You might appreciate the eight gold-covered sculptures of Sakyamuni.
In the sunset, you can walk around the old Tibetan town to get to know more about local Tibetan culture. Local Tibetan (Tibetan) is different from Lhasa in culture.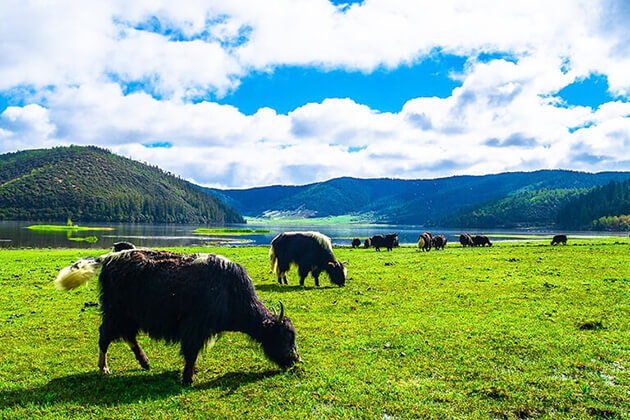 Day 6 Shangri-la – Lijiang (B, L, D)
Today we travel to the most famous old town in colorful Yunnan: Lijiang. Along the way, you will stop for Tiger Leaping Gorge firstly. Take mild hiking there to get the best impression of the attraction.
Lunch will be served, you will have a look at the first bend of Yangtze River. The Jinsha River, the main branch of Yangtze River, creates a 90 degree turn when meeting the Stone Drum Town. It is that element of geography, it forms a large V-shape bend. Then we drop a tour to the Stone Drum town to observe the local market, you can buy some local products here.
Before the sun goes down, you head back to Lijiang. You can either relax at the hotel or go for a free walk in the old town in the evening.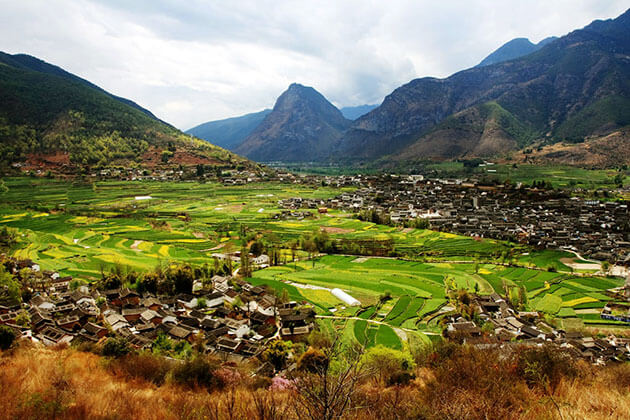 Day 7 Lijiang-Dali (B, L, D)
The old town of Lijiang is the destination for exploration, especially Sifang Jie Street ( the square Street). As you walk on the stone-paved streets and delicate bridges above swift streams in the old town, you will discover the Naxi culture, ranging from the traditional Naxi architecture, Naxi costumes… Then you will be escorted to Shaxi Village. This used to be an important hub on the old Tea-Horse road, which integrates the business and Buddhist culture.
Later, we leave for Dali. Come and explore the home of the ethnic minority group ring of the Bai people. Today we stay a night with a local family. A lot of topics for you to discuss: interesting story, recipe to cook local dishes…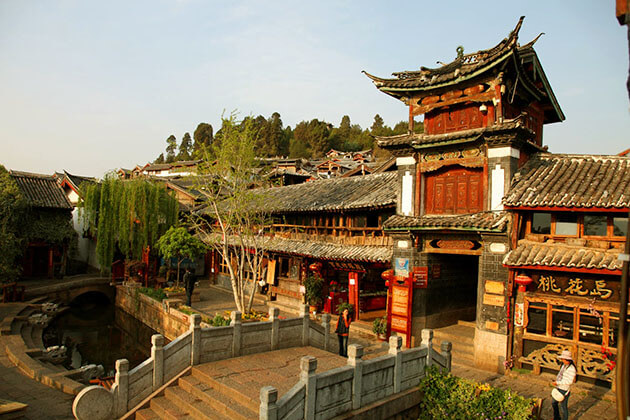 Day 8 Dali (B, L, D)
Xizhou is located between Cangshan Mountain and Erhai lake. If you desire to have a great view of the typical Bai Minority folk culture and architecture, you will not want to miss this place. Houses and streets are still preserved. When you wandering the destination, remember to find some handmade traditional artifact, or have a bite of the local taste like Ersi, noodles, etc… see the traditional tailors' shop, barbershop…
We will support you on the boat cruise trip on Erhai Lake. The lake got this name because of its shape like an ear (in Chinese Er). Boat cruising on Erhai lake is rated as the most blowout part of the Dali journey. Enjoy the crystal waters. Then move to the Three Pagodas of Chongsheng Temple, which have a history of a thousand years ago. Later, we transfer back to your hotel.
Time at night is at leisure. Recommendation: wax dying, Chinadying style.
Day 9 Dali – Guiyang (Flower Stream Park ) (B, L, D)
After having breakfast, travel on a flight to the beautiful city of Guiyang. Guizhou is an incredible land because of ethnic minorities and Karst style mountains. Guiyang is the capital of Guizhou, which is a city in the forest. We are so familiar with the old towns, thus, why not enjoy a pleasant walk in Huaxi park. Flower Stream Park is a beautiful park with a lot of locals, you can see some people swimming in the clean river. We arrange a bike riding around the park and breathe fresh air.
Day 10 Guiyang – Libo (Xiaoqikong Scenic Area) (B, L, D)
Today we will experience the typical and unique features of Guiyang. Thus, we head out for Xiaoqikong (seven-hole bridge) Scenic Area. It is located in Libo county in southern Guizhou Province. It is the Karst topography with peculiar landforms and magnificent peaks that makes the scenic area, featured with crystal-clear springs and streams. Marvel at the fantastic primeval scenery formed by virgin forests, limestone caves, twin lakes, etc. You will be escorted to the hotel and overnight at the hotel.
Day 11 Libo – Guilin (B, L, D)
Take a flight to Guilin, a mountain city in China. Be accompanied to the hotel.
After relaxing, we transfer to the landscape of Li River, which is believed the most beautiful spot in China. Start a cruise trip, enjoy the picturesque Li River and Karst style peaks; we also get to know many romantic tales about the peaks and love. I
Later in the afternoon, we will arrive in Yangshuo town. There is a place named Westerner Street because Westerners like Guilin and reside here. You will find it interesting.
Before the evening, we will drive you to the accommodation. Relax and overnight.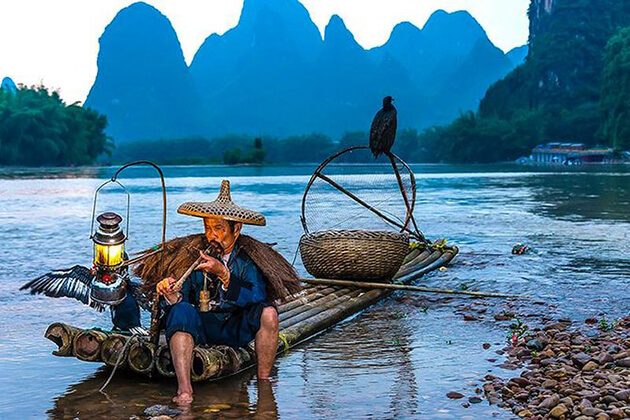 Day 12 Yangshuo – Longsheng (B, L, D)
Spend one more day to explore the beautiful land of Guilin through mild hiking in Longji Rice Terrace. This attraction is still preserved. We pay a visit to Elephant Trunk Hill. The Elephant shaped hill is the iconic beauty of Guilin. After having a look at the hill, you find out what it resembles an elephant when drinking water from the river with its long trunk.
Dragon's Backbone Rice Terraces has been built up from the mountains for a long period. Trek to Longji, where the main local villagers are Miao and Zhuang ethnic Minority and experience the pure culture here. Overnight in Longsheng.
Day 13 Longsheng – Guilin Departure (B)
Enjoy your last lunch of this tour before driving back to the airport in Guilin. Check and catch your flight to the next stop. We wish you to enjoy the China tour package and have unforgettable memories.