General Information
Duration: 15 days
Start/ End: Beijing / Shanghai
Tour Route: Beijing- Xi'an- Lhasa- Chengdu– Shanghai
Tour Type: Explore and Experience
Tour Categories: China Classic Tours
Tour Customizable: Absolutely! (Inform us)
Guides: Local Guide (Local Tour Guide)
Transportation: Private first-class air-conditioned vehicles
Accommodation: Listed below or equivalent.
Brief Itinerary
Day 1: Beijing Arrival (D)
Day 2: Beijing inner city tour (A, L)
Day 3: Beijing ( B, L)
Day 4: Beijing – Xi'an ( B, L)
Day 5: Xi'an ( B, L)
Day 6: Xi'an ( B, L)
Day 7: Xi'an – Lhasa ( B)
Day 8: Lhasa ( B, L)
Day 9: Lhasa ( B, L)
Day 10: Lhasa – Gyantse – Shigatse ( B, L)
Day 11: Shigatse – Lhasa ( B, L)
Day 12: Chengdu Arrival (B, L)
Day 13: Chengdu (B)
Day 14: Shanghai ( B, L)
Day 15: Shanghai Departure (B)
Detailed Itinerary
Day 1: Beijing Arrival (D)
Upon the journey to Beijing Airport, our guide will pick you up then they transfer you to the downtown hotel. The rest of the day is at your leisure, take a rest or go for a walk around the hotel. Dinner is a welcoming meal at the hotel for you.
Day 2: Beijing inner city tour (A, L)
Today is the starting day of your Chinese classic tour package. After enjoying breakfast at the hotel, you will gather at the hotel lobby and be driven to visit the Tiananmen Square or "Gate of Heavenly Peace". It's nowadays the seventh-largest city square worldwide. Strolling around the large square is very enjoyable where you will see Beijing with ancient and modern elements, then walk north to the Forbidden City. This imperial palace is impressive because it is the largest and best-preserved ancient structures in China. You can admire a variety of national treasures preserved
Lunch at a local restaurant. Later in the afternoon, we will go and explore Chinese royal parks – the Summer Palace, which possesses typical Chinese architecture and enchanting landscape.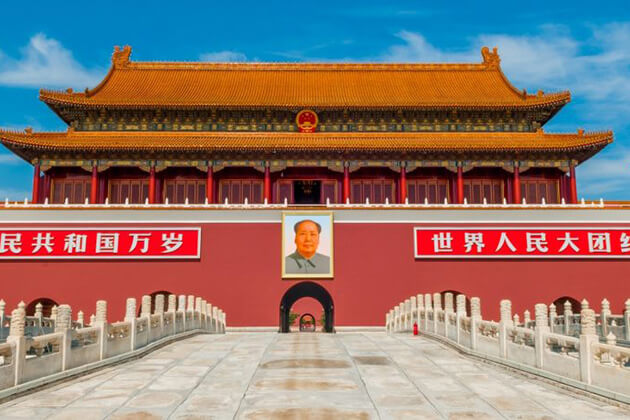 You will be escorted to the hotel and overnight here. Time at night is flexible for you.
Day 3: Beijing ( B, L)
Breakfast servings at the hotel, today we will go for an excursion to the Mutianyu Great Wall. Enjoy taking the cable car to sightsee the vital section of the world-famous China Great Wall; Mutianyu date back to over 1400 years ago. This activity can help us to trace back to the Northern Qi Dynasty (550-570).
Have a taste at a local restaurant. Later you will go to the most famous tomb of Ming Tombs – Changling, it is the largest in scale and is completely preserved, inhumed the fourth emperor of the Ming Dynasty. Along the itinerary, we visit the Sacred Road of the tombs, which was originally established as the entrance to the Changling mausoleum.
When the evening approaches, we return to the hotel.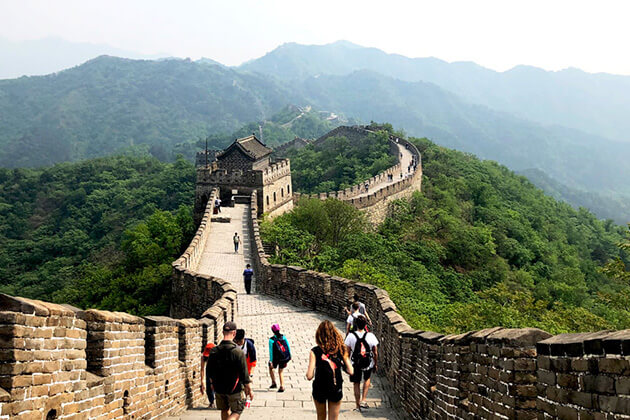 Day 4: Beijing – Xi'an ( B, L)
On this day, have breakfast at the hotel, then tourists will visit the Temple of Heaven, in which the Emperor of the Ming & Qing dynasties would worship the heaven and wish for good crops. The following destination to explore is Beijing Hutong, the aim of the trip is to learn more about the real-life and rich culture of ordinary Beijing people. A rickshaw traveling seems to be a distinctive and exciting traveling experience for tourists.
Have lunch at a local restaurant before we transfer to the airport to Xi'an on later of this day, then check-in at Xi'an downtown hotel.
Day 5: Xi'an ( B, L)
For the first day in Xi'an, you wake up early and enjoy your breakfast. We will head to the world-famous Terracotta Warriors and start the wonderful Xi'an tour. No matter you have already seen them many times on TV or in newspapers, the trip a totally different experience to see them with your own eyes. Also with a side trip to Mausoleum of the Qin Emperor, who owned this awesome underground kingdom, you would know more about the first dynasty of China – Qin dynasty.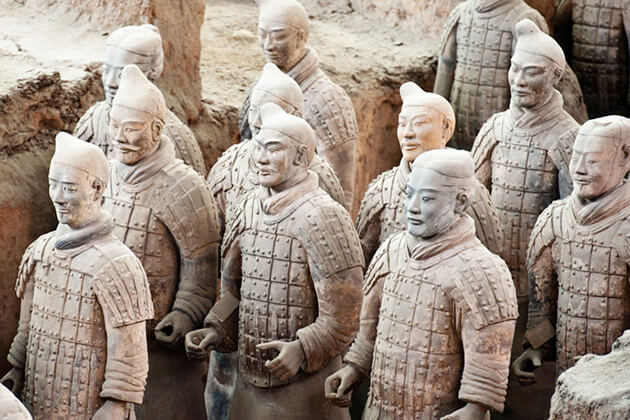 At lunchtime, enjoy the famous food of Xi'an at a local restaurant. In the afternoon, visitors will return to downtown for having a look at the Great Mosque of Xi'an; take a short walk to Muslim Quarter, you can buy some interesting souvenirs and taste various delicious local snacks. An option for tourists is: Tang Dynasty Show.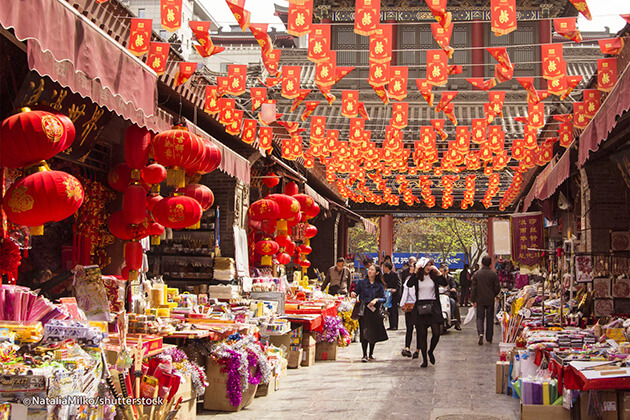 Before the sun goes down, you will be accompanied to the hotel and overnight.
Day 6: Xi'an ( B, L)
Today's itinerary theme is the religious architectural art of Xi'an. Buddhism and Islam melt into Xi'an thousands of years ago with grant Buddha pagodas and magnificent mosques being built. Small Wild Goose Pagoda is the delicate version of the larger-scale Big Wild Goose Pagoda. These two pagodas lighten up the region around and create an aesthetic balance. The following activity will visit the Shaanxi Historical Museum to have an in-depth exploration of Xi'an in many fields.
Next, we step on Xi'an Ancient City Wall. Remember to take beautiful photos and views of Xi'an city about this the best-preserved city wall in China. Cycling is an optional but ideal activity for you.
Breakfast and lunch will be served for you.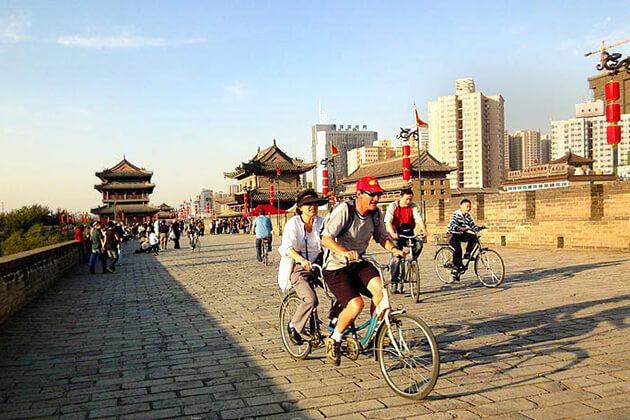 Day 7: Xi'an – Lhasa ( B)
Breakfast at the hotel, visitors will be transferred to the airport for the flight to Lhasa of Tibet, the tour guides will meet you and take you to the Lhasa downtown hotel to check-in. After your arrival, have a good rest and get ready for the excursion tomorrow.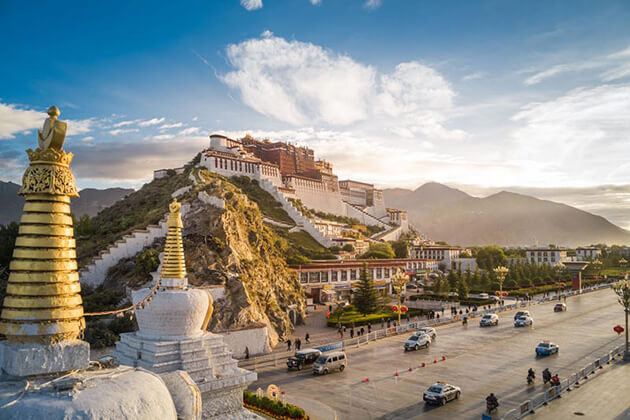 Day 8: Lhasa ( B, L)
Get up early and prepare for a lifetime memory plan. In the morning, we will travel to the splendid Potala Palace, which dated back from the 7th century and used to be home to Dalai Lamas. The Jokhang Temple, we head to later, as the spiritual center of Tibet, will deeply impress you by its magnificence and sincere pilgrims. Barkhor street is considered as the crowded central Market in the ancient section of Lhasa, where you can shop for various Tibetan souvenirs or other minorities' souvenirs.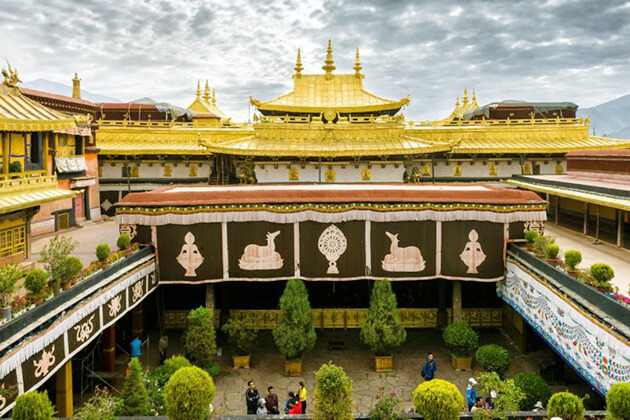 Breakfast and lunch will be served.
Visiting Potala Palace is quite difficult because of entrance tickets, however, we will customize this destination for you.
Day 9: Lhasa ( B, L)
After enjoying breakfast at the hotel, we head to the western suburb of Lhasa City and visit the Norbulingka (also called 'Treasure Park' in Tibetan). Known as the biggest man-made garden in Tibet, with a square of 360,000 meters, with many rooms in the huge number of buildings. Then we take a side trip to Lhasa Carpet Factory, in which you will have a glance at many elegant rugs and also other beautiful handicrafts. After having lunch at a local restaurant, we venture Sera Monastery (the second monastery in Tibet). Famous debating activities are available that you should never miss.
Later, we head off the hotel and overnight.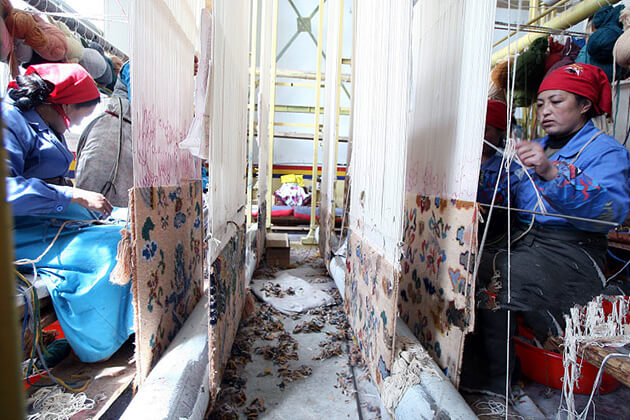 Day 10: Lhasa – Gyantse – Shigatse ( B, L)
After spending two days traveling around Tibetan manmade landscapes, today we transfer to the famous Sacred Lake of Tibet – Yamdrok Yumtso Lake to marvel at the beautiful natural views. The surface of the lake seemly looks like green jade, hence it was praised as the most beautiful lake all over the world. Then, we move to Gyantse and enjoy the time to visit the local popular Pelkhor Chode Monastery along with the precious Kumbum Stupa. The last destination is Shigatse. Those attractions are amazing sceneries and beautiful legend, and an ideal spot for those who love photography.
Breakfast and lunch will be served.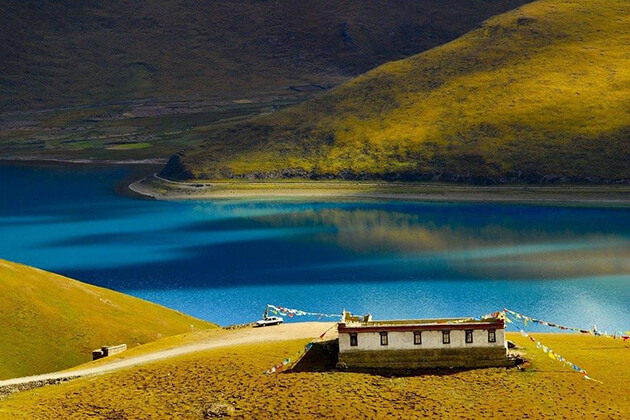 Day 11: Shigatse – Lhasa ( B, L)
Having breakfast, we will visit the most famous tourist attraction of Shigatse – Tashilhunpo Monastery, which was found by the First Dalai Lama since the 1400s. Later on the way back to Lhasa, we will take you to visit a local Tibetan family, here you can know more about local culture, customs and life condition of Tibetan people. Have lunch at a local restaurant. We continue this excursion in the afternoon.
When it turns dark, you will be driven back to the hotel.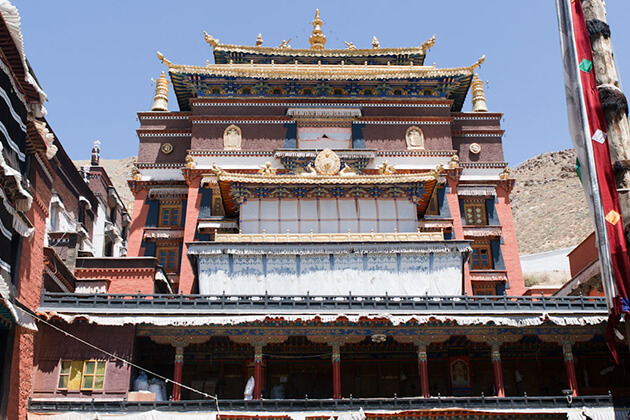 Day 12: Chengdu Arrival (B, L)
After having breakfast at the hotel, you will be transferred to Gonggar Airport for the flight to Chengdu, you could have a rest during the flight. When you land in Chengdu, the tour guide will meet at the airport and escort you to check-in in the downtown hotel. Take a good rest before the Chengdu tour. In the afternoon, we set off for the Giant Panda Breeding Base. Let these extremely lovely creatures greet you and grant you a good mood for a whole day here. You'll have great fun watching panda parents and kids, panda lovers and panda clan playing so happily at the cozy base.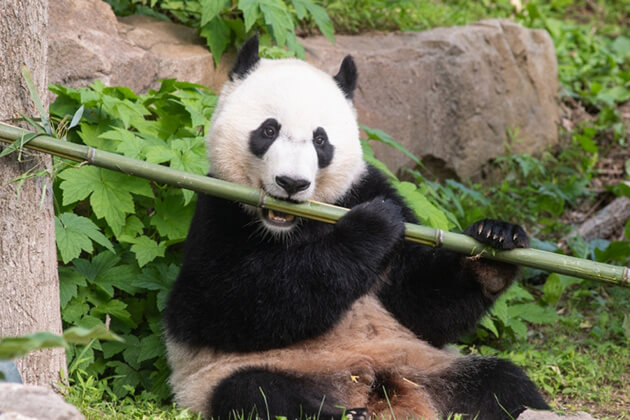 Day 13: Chengdu (B)
This day, before you are transferred to Airport for flight to the next destination – Shanghai, you will visit the following two famous attractions in Chengdu: Jinli Ancient Street, which is the top choice for those interested in Sichuan folklore. It gives access to the tasty Sichuan cuisine and amusing local custom just like what Hutong of Beijing shows you. The second is the Wuhou Memorial Temple. It was built as a tribute to Zhuge Liang, the Martial Marquis of Shu during the Three Kingdoms Period. Zhuge Liang was a brilliant hero of ancient China. The local people respected and raised many memorials after his death across the country.
Upon your arrival in Shanghai, you will be accompanied to the downtown hotel.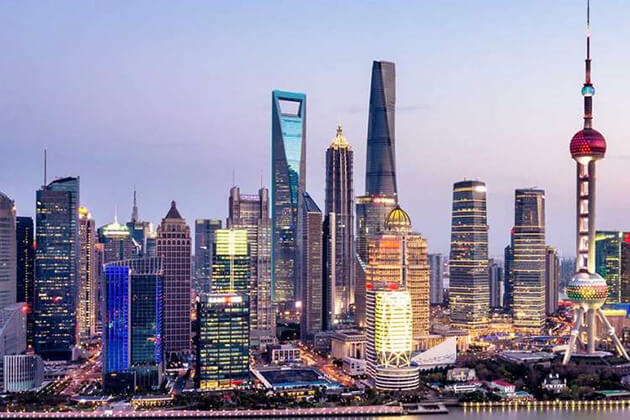 Day 14: Shanghai ( B, L)
Known as the biggest city in China, Shanghai lures the endless number of tourists. For starting the day, enjoy your breakfast at the hotel first. then we begin from Yuyuan Garden and Yuyuan Market, you will appreciate Chinese garden construction and know more about Shanghai local people. After that, we take a stroll from Nanjing Road to the Bund. The amazing modernness of Shanghai will impress you when comparing it with Xi'an. Later, you can have view the whole city from the Oriental Pearl TV Tower. Coming here, tourists have chances to know about the development of Shanghai by visiting the Shanghai Municipal History Museum. At nightfall, the Shanghai Acrobats Show is recommended for you
Breakfast & lunch at a local restaurant.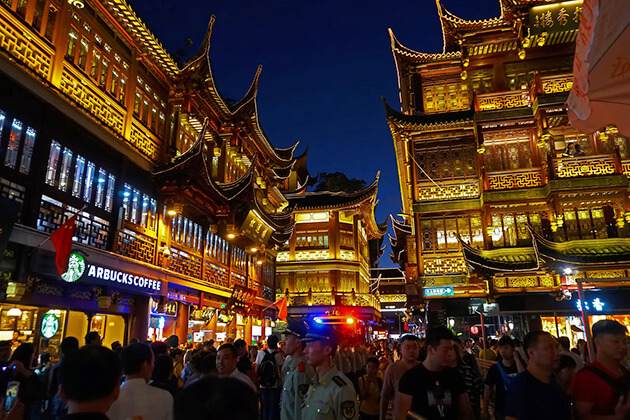 Day 15: Shanghai Departure (B)
On the last day of the tour, have breakfast then you can have free time to wander in Shanghai, go shopping or take a rest. Later the tour guide will escort you to the airport for the homecoming flight. We hope you enjoy this tour to China and keep it forever as the best memory about China in your whole life