General Information
Tour Code:
Duration: 10 days/ 9 nights
Start/End: Beijing / Xian
Tour Route: Beijing / Datong / Taiyuan/ Pingyao / Xian
Tour Type: Explore and Experience
Tour Categories: Classic China Tours
Tour Customizable: Definitely! (Tell us your specific requirements in the inquiry form)
Guides: Local Guide (English Speaking Guide, Other Languages upon Request)
Transportation: Private first-class air-conditioned vehicles
Accommodation: Listed below or equivalent. Rooms with private bath or shower, hotel taxes, porterage, tips, and service charges
Brief Itinerary
Day 1: Beijing Arrival (B)
Day 2: Beijing (B, L, D)
Day 3: Beijing (B, L)
Day 4: Beijing- Datong (B, L, D)
Day 5: Datong – Taiyuan (B, L, D)
Day 6: Taiyuan – Pingyao (B, D)
Day 7: Pingyao – High-Speed Train to Xian (B, D)
Day 8: Xian (B, L, D)
Day 9: Xian (B, L, D)
Day 10: Xian Departure (B)
Full Itinerary
Day 1: Beijing Arrival (B)
Say hello to Beijing, the capital of China! You will be welcomed warmly by our tour guide at the Beijing Airport and transferred to the hotel for check-in and a special breakfast. The rest of the day is free for you to explore nearby. If you need some recommendations, feel free to ask your tour guide. They are always willing to support you all the time.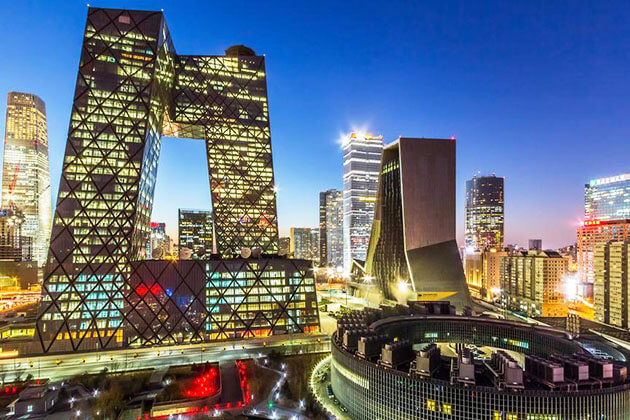 Day 2: Beijing (B, L, D)
Wake up early in the morning and enjoy breakfast before heading to Tiananmen Square, where you can see one of the most glorious and significant palaces – the Forbidden City. This is a must-see destination for both Chinese and foreign tourists because of its stunning landscapes and cultural significance. Be ready to immerse in the largest collection of well-preserved wooden structures as well as splendid colorful paintings.
In the lunchtime, you will be served dinner and a short break to ready hop on a rickshaw to enjoy the beauty of small alleys and feel the old Beijing lifestyle – Beijing Hutongs. It is also a great chance for you to get a closer insight into local people, local family as well as seeing a wide range of antique shops and choosing some unique souvenirs. After that, we transfer to the outskirts of Beijing to have amazing experience in the Summer Palace – an Imperia Garden in Beijing. Walking around to explore ancient pavilions, temples, bridges, and gardens while catching your eyes on the vast lotus in Kunming Lake and the beautiful paintings in the Long Corridor.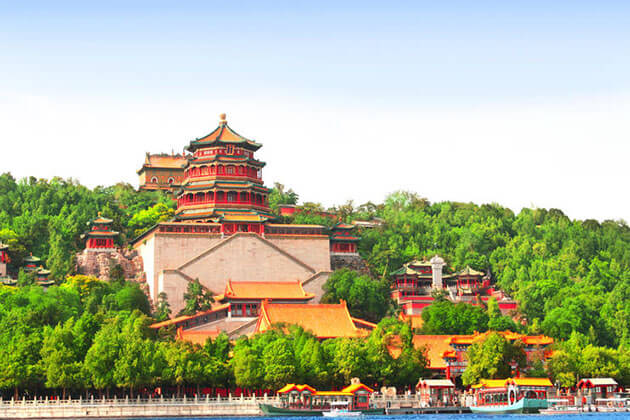 As the sun begins to set, we transfer back to the hotel for dinner and overnight accommodation.
Day 3 Beijing (B, L)
After having breakfast, our tour guide will take you to the imperial site –Temple of Heaven to join traditional activities including dancing, kite flying, water calligraphy, Tai Chi and much more. Next, we drive to the Great Wall to enjoy stunning views of the Seven Wonders of the World. You have ample chance to experience not only determined resistance, splendid culture, but also China's extravagant architecture and creativity. More interestingly, you can take a cable car to ascend the Great Wall, spectacular natural scenery in Mutianyu Great Wall certainly impresses you.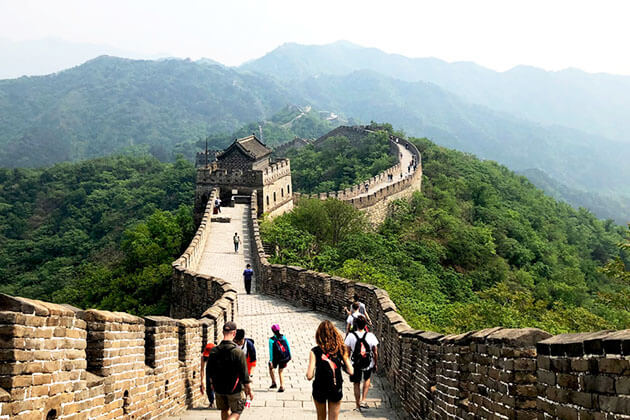 After an enjoyable time, we transfer you back to Beijing city for a great dinner with scrumptious Peking Roasted Duck at Quanjude and then stay overnight at the hotel in Beijing.
Day 4: Beijing- Datong (B, L, D)
Wake up early in the morning and enjoy refresh breakfast in Beijing. After that, we escort you to the airport and take a flight to Datong. Upon arrival, your local tour guide will meet you and start to explore the Datong journey.
Yungang Grottoes is the first destination for you. Explore the majestic cave cluster and get a glimpse of ancient Chinese Buddhist temple grottoes near the city of Datong are amazing experiences.
After having lunch, head to Huayan Temple, the largest and best-preserved monastery of the Liao dynasty. Next, continue to have a look at Nine Dragon Screen, the oldest and largest glazed screen in China. You certainly will be amazed by vivid dragons on the wall that you can not imagine they were built over 600 years ago.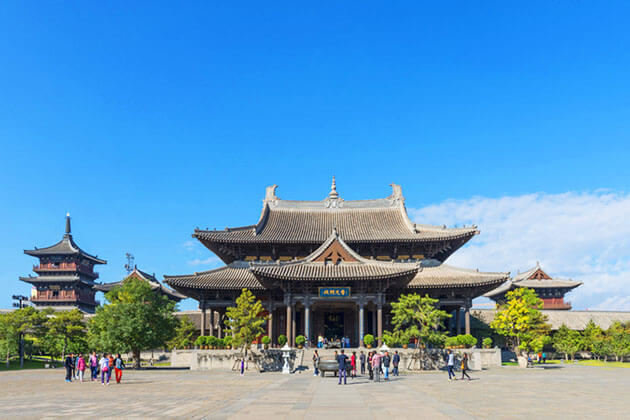 At the end of the day, we transfer you back to the hotel and treat a delicious dinner. Stay overnight at the hotel in Datong.
Day 5: Datong – Taiyuan (B, L, D)
After having breakfast, we start a new day with a visit to Hanging Temple, which is one of the five most sacred mountains in China. The temple is a perfect combination of Buddhism, Taoism, and Confucianism.
Later, after lunch, we take about 50 km by private vehicle from the Hanging Temple to reach the Yingxian Wooden Pagoda to see the oldest pagoda that was built with wood in China.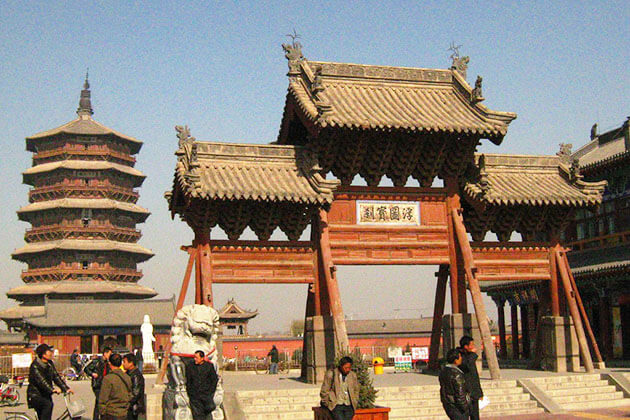 After the tour, we drive to Taiyuan city for dinner and accommodation.
Day 6: Taiyuan – Pingyao (B, D)
Start a new day with a delicious breakfast before visiting the Jinci Temple to get a closer insight into spectacular landscapes and historical cultural relics. After that, the next destination is Pingyao Ancient City with over 2700 years of history to see scattered temples, ancient city walls, and elegant courtyards. You certainly will be impressed by the peaceful atmosphere in this old town. Before leaving Pingyao, take a short visit to the Ming and Qing Street.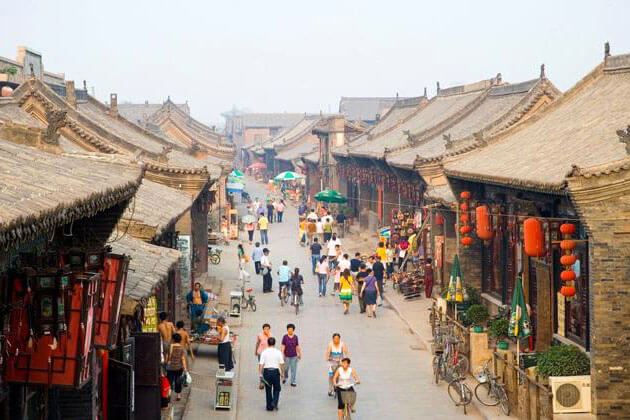 Dinner and overnight accommodation in Pingyao.
Day 7: Pingyao – High-Speed Train to Xian (B, D)
After breakfast, drive to Wang's Family Compound to explore wooden construction and know more how the rich family lived in ancient times. Afterward, visiting the Zhangbi Ancient Castle to witness the combination of architecture and engineering in ancient time.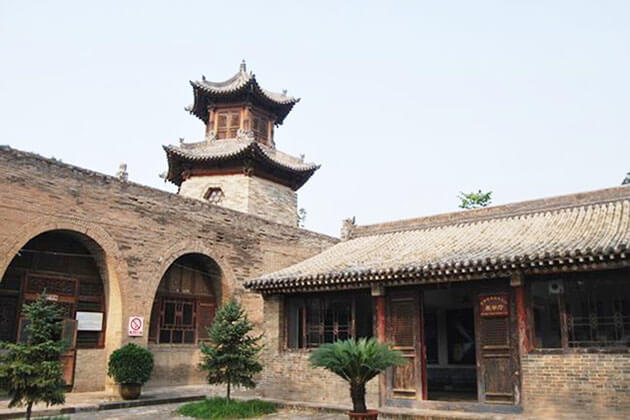 In the late afternoon, we transfer you to the train station to take a high-speed train to Xian. Upon arrival at Xian, transfer to the hotel and enjoy dinner.
Day 8: Xian (B, L, D)
Get up early and enjoy a refreshing breakfast before exploring Terracotta Warriors and Horses, which is considered as great man-made wonders in the world. Be amazed not only by the ambition of Qin Shihuang but also the fabulous artistic skills of ancient Chinese artisans.
After having lunch, return to Xian to take a stroll along Ancient City Wall, the largest and best-preserved ancient city wall in China. It is a great opportunity for you to enjoy panoramic views of modern Xian and walk leisurely on the well-maintained city wall. It is followed by a short visit to bustling Muslim Community, where you can uncover the local culture and taste delicious Xian cuisines.
In the late afternoon, we transfer back to the hotel for a hearty dumpling dinner and enjoy an interesting Tang Palace Dance Show with fabulous music and fabulous dancing of the Tang Dynasty. Stay overnight at the hotel in Xian.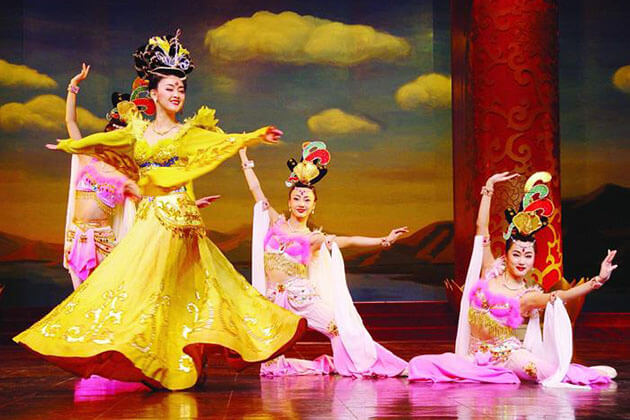 Day 9: Xian (B, L, D)
After breakfast, we continue discovering Xian with a reputable temple – Da Cien Temple. We not only see an ancient temple but also enjoy music show and fountain light at the North Square of Giant Wild Goose Pagoda. After that, we enjoy lunch before reaching the Shaanxi History Museum. Strolling along modern exhibition halls to see relics including porcelains, paintings, currencies from Zhou to the Tang periods.
We finish an amazing day with a transfer back to the hotel for dinner and overnight accommodation.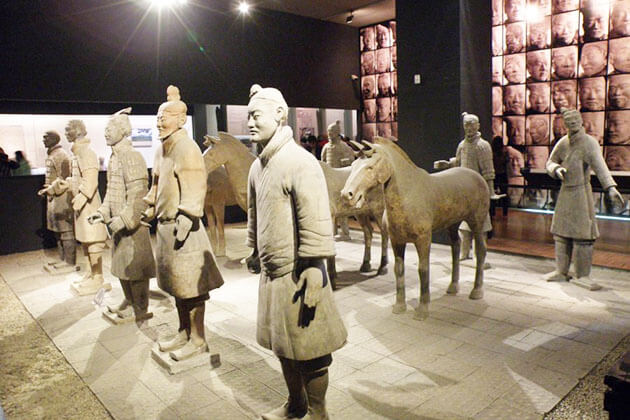 Day 10: Xian Departure (B)
The last day of this trip, you can enjoy the flexibility to spend more time in places that interest you most until get escorted to catch your flight. China tour ends. We wish you to have an unforgettable time exploring real China with our itinerary.